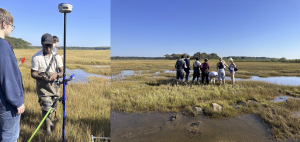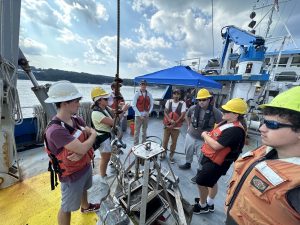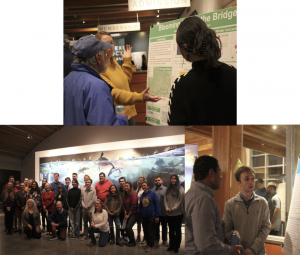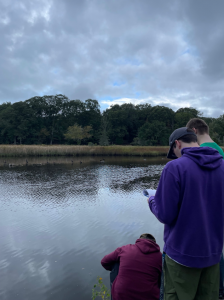 By Mengyang Zhou
Undergraduate classes within the Department of Marine Science (DMS) are bridging the classroom learning, fieldwork and addressing environmental challenges that are relevant to the local community.
As undergraduate students enter their junior and senior year, they engage in experiential learning through classes such as MARN 3001 (Foundations of Marine Sciences, instructed by Pf. Leonel Romero, Pf. Jason Krumholz, and Dr. Claudia Koerting, historically also co-taught by Pf. Craig Tobias who is on sabbatical this year), MARN 4001 (Measurement and Analysis in Coastal Ecosystems, instructed by Pf. Julie Granger and Dr. Claudia Koerting) and MARN 3030 (Coastal Pollution and Bioremediation, instructed by Pf. Pieter Visscher). These classes are designed to provide hands-on experience of fieldwork, lab experiments and data analysis, and empower students to apply classroom knowledge to the real world, making a positive impact on environmental problems in the local community.
The class Foundations of Marine Sciences (MARN 3001) focuses on carrying out and interpreting the most fundamental oceanographic measurements in coastal habitats such as beaches, marshes and estuaries. In the fall semester of 2023, students went on field trips to Long Island Sound and the Thames River aboard the RV Connecticut and RV Lowell Weicker. They collected hydrographic data using CTDs (Conductivity, Temperature and Depth), water samples for nutrient measurements, as well as sediment samples. They also conducted marsh elevation mapping in Bluff Point Beach and Barn Island. Upon analyzing these data and publicly available datasets provided by NOAA (National Oceanic and Atmospheric Administration), students learned how to characterize the changing coastal systems and how organisms adapt to those changes.
Students in the class Measurement and Analysis in Coastal Ecosystems (MARN 4001) assessed the potential causes of water quality impairment in Wequetequock Cove near Stonington, CT and Pawcatuck River, and built connections with the local community. Beyond learning textbook knowledge, they went into the field to collect water and sediment samples that were analyzed in the lab for nutrient and chlorophyll concentrations and O2 consumption rates. They also learned how to analyze, interpret and archive the data they collected, as well as those collected by CUSH (Clean Up Sounds and Harbor), a local non-profit organization who has been conducting a long-term survey of the cove's water quality. Finally, they tried to address important questions, such as identifying the sources of nutrient overload in the cove, and understanding the causes of summertime O2 depletion in the cover, and constructed scientific posters and presented their scientific findings to a broad audience in Mystic Seaport Museum.
The class Coastal Pollution and Bioremediation (MARN 3030) is another example of a class that is designed to connect students with the real world through service-learning. This class focuses on how pollution in the nearshore marine environment impacts the marine food web. In the fall semester of 2023, students learned the fundamental environmental monitoring techniques and data analysis which were applied to coastal pollution research. They monitored the overall health of the Mystic River through field and lab experiments that included water column profiling, sediment quality and enterococcal counts before and after rain events. Their work provided data for the Alliance of the Mystic River Watershed, a local citizen group that focuses on resilience and social justice along the Mystic River. Upon discussion about local policy related to coordinated resilience planning and watershed protection, they also presented their findings to the public in Mystic Seaport Museum, together with MARN 4001.
To reflect on experiential learning classes, Shannon Jordan, who took MARN4001 and now a master student in the DMS, said: "MARN4001, more than any other core class, was an introduction to oceanographic research as it actually occurs. Experimental design, methods of data management and interpretation are not outlined in a manual. In contrast to many undergraduate science labs, this course encourages students to take the reins in each aspect of the scientific method. MARN4001 was an excellent environment in which to explore individual research interests and the process by which questions are translated into hypotheses, experiments, results, and further questions. The opportunity to develop these practical skills in a collaborative environment – with ready access to the vast knowledge base of experienced faculty – was incredibly valuable." 
Through these experiential learning classes, students worked on interdisciplinary problems and gained plenty of hands-on experience in the field of oceanography. They also proposed solutions to address the local environmental problems, and presented them to a broad audience. The valuable skill sets they developed in the past semester will prepare them for their future career and academic pursuits.