Pieter Visscher
(Ph.D., University of Groningen, The Netherlands) Professor of Marine Sciences
---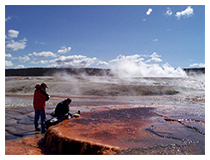 Astrobiology addresses three fundamental questions: How does life begin and develop? Does life exist elsewhere in the universe? What is the future of life on Earth and beyond? In our Geomicrobiology work group we address (parts of) these questions by combining fieldwork and laboratory experiments in organosedimentary microbial ecosystems. We use these as analogs for life on early Earth, and possibly in outer space.
Microbial mats, especially those forming microbialites (lithified mats) are at the center of our work. These microbial ecosystems have dominated life on Earth dating back as far as 3.5 billion years. Together with colleagues from Argentine, Australia, Chile, France, and Sweden, we investigate mechanisms of biosignature formation. These biosignatures are either (metabolic) gases or minerals, and are formed during the combined cycling of C and O, S, Se or As. We work in hard water lakes (Green Lake, NY); open marine environments (Highborne Cay, Bahamas); and hypersaline lakes (in the US, Argentina, Chile, Australia, and the Bahamas), some at sea level, others > 15,000 ft above sea level.  Key microbialites under investigation include layered stromatolites and clotted thrombolites.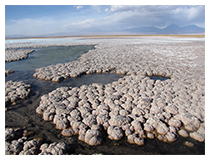 We are involved with the conservation of microbial ecosystems (Big Pond, Bahamas; Lake Clifton and Lake Richmond, Shark Bay, Australia; Laguna Brava and Laguna Tebenquiche, Chile) and the discovery of sub-salt oil reservoirs, which has led to collaborations with Petrobras (Brazil). We also collaborate with colleagues at Woods Hole Oceanographic Institution on protist distribution and biogeochemistry in deep ocean trenches (Santa Barbara basin; Mediterranean brine anoxic basins).
Research Projects
Mechanisms of carbonate precipitation and dissolution in microbialites – NASA, NSF, Caring for our Country/Australia
Diagenetic processes in hypersaline microbialites – NSF
Arsenic and sulfur cycling in anoxic microbial mats and microbialites – CNRS/France, CEA/Chile
In situ microbial communication (quorum sensing) in microbial mats – jointly with Univ New South Wales/Australia
Oceanography Student
Quinne Murphy – M.Sc. Student
Oceanography Alumni
Laura Baumgartner – Ph.D. 2006
Zamara Fuentes Figueroa – M.Sc. 2007
Kim Gallagher – Ph.D. 2012
Shelley Hoeft – M.Sc. 1999
Johanna Hunston – M.Sc. 2000
Albino Munoz Barbosa – M.Sc. 2008
Almariet Palm – M.Sc. 2018
Daniel Rogers – M.Sc. 2001
Rachel Sytsma – M.Sc. 2004
Other Alumni
Lexy Fowler – GSCI M.Sc. 2012
Patrick Getty – GSCI Ph.D. 2014
Kristen Myshrall – GSCI Ph.D. 2012
Molly Patterson – GSCI M.Sc. 2014
Ryan Stewart – GSCI M.Sc. 2013
Natalie Stork – GSCI M.Sc. 2012
Publications
Bernhard, J.M., K.A. Kormas, M.G. Pachiadaki, E. Rocke, D.J. Beaudoin, C. Morrison, P.T. Visscher, A. Cobban, V.R. Starczak, V.P. Edgcomb. 2014. Benthic protists and fungi of Mediterranean deep hypsersaline anoxic basin redoxcline sediments. Frontiers in Microbiology
Sforna, M.C., P. Philippot, M.A. van Zuilen, A. Somogyi, K. Medjoubi, B. Schoepp-Cothenet, W. Nitscke, P.T. Visscher. 2014. Evidence for arsenic metabolism and cycling by microorganisms 2.72 billion years ago. Nature Geoscience DOI: 10.1038/NGEO2276
Pages, A., D.T. Welsh, P.R. Teasdale, K. Grice, M. Vacher, W.W. Bennett, P.T. Visscher. 2014. Â Diel variations in solute distributions and biogeochemical cycling in a hypersaline microbial mat from Shark Bay, WA. Marine Chemistry, DOI: 10.1016/j.marchem.2014.05.003
Petrisor, A., S. Szyjka, T. Kawaguchi, P.T. Visscher, R.S. Norman, A.W. Decho. 2014. Changing Microspatial Patterns of Sulfate-Reducing Microorganisms (SRM) During Cycling of Marine Stromatolite Mats. Int. J. Molecular Sciences 15:850-877
Farias, M.E., M. Contreras, M.C. Rajuk, D. Kurth, R. Flores, J. Maldonado, D. Poire, F. Novoa, P.T. Visscher. 2014. Characterization of bacterial diversity associated with microbial mats, gypsum evaporites, and carbonate microbialites in thalassic wetlands: Tebenquiche and Brava, Salar de Atacama, Chile. Extremophiles 18:311-329
Gallagher, K.L., C. Dupraz, P.T. Visscher. 2014. Two opposing effects of sulfate reduction on carbonate precipitation in normal marine, hypersaline, and alkaline environments. Geology 42:313-314
Edgcomb, V.P., J.M. Bernhard, R.E. Summons, W. Orsi, D. Beaudoin, P.T. Visscher. 2014. Active eukaryotes in microbialites from Highborne Cay, Bahamas and Hamelin Pool (Shark Bay), Australia. ISME J 8:418-429.
Dupraz, C.D., A. Fowler, C. Tobias, P.T. Visscher. 2013. Stromatolitic knobs in Storr's Lake (San Salvador, Bahamas): a model for formation and alteration of laminae. Geobiology 11:527-548
Bernhard, J.M., V.P. Edgcomb,  P.T. Visscher,  A. McIntyre-Wressig, R.E. Summons, M.L. Bouxsein, L. Louis, M. Jeglinski, M. 2013. Insights into foraminiferal influences on microfabrics of microbialites at Highborne Cay, Bahamas. Prod Nat Acad Sci USA 110:9830-9834
Dupraz, C., R.P. Reid, O. Braissant, A.W. Decho, R.S. Norman, P.T. Visscher. 2009. Processes of   Carbonate Precipitation in Modern Microbial Mats. Earth-Science Reviews 96:141-162.
Visscher, P.T., J. Stolz. 2005. Microbial communities as biogeochemical reactors. Palaeogeography Palaeoclimatology Palaeoecology, 219:87-100.
Dupraz, C., P.T. Visscher. 2005. Microbial lithification in modern marine stromatolites and hypersaline mats. Trends in Microbiology 13:429-438.
Reid, R.P., P.T. Visscher, A.W. Decho, J. Stolz, B.M. Bebout, I.G. Macintyre, H.W. Paerl, J.L. Pinckney, L. Prufert-Bebout, T.F. Steppe, D.J. Des Marais. 2000. The role of microbes in the accretion, lamination and early lithification of modern marine stromatolites. Nature 406:989-992.
Visscher, P.T., R.P. Reid, B.M. Bebout. 2000. Microscale observation of sulfate reduction: Evidence of microbial activity forming lithified micritic laminae in modern marine stromatolites. Geology 28:919-922.