Edward C. Monahan Symposium
Thursday, July 25th, 2019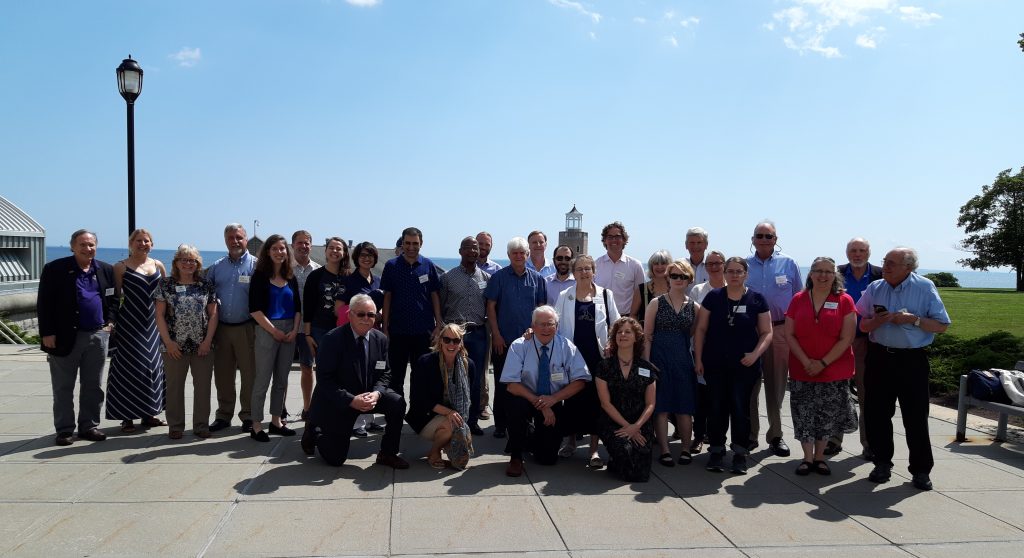 In the old-world tradition of a Festschrift, i.e., a celebration and book honoring the life and achievements of outstanding academics, the Department of Marine Sciences celebrated Dr. Edward C. Monahan in a full day symposium. Colleagues from Ed's many years at UConn and Connecticut Sea Grant recounted entertaining anecdotes and his many accolades. Outside of academia, friends shared stories about his intense love for rowing crew and his involvement in local politics. One of the shining moments of the day included a photo montage of Ed's facial hair throughout the years. Two beautiful quilts, crafted by Ed's wife Elizabeth, were displayed throughout the festivities. One quilt captured rolling waves, the pattern being different shapes for different words for white caps. The other quilt displayed every institutional emblem in chronological order at which Dr. Monahan worked.
Dr. Monahan studied at Cornell University as an undergraduate in Engineering Physics, and continued onto his Ph.D. in Oceanography at the Massachusetts Institute of Technology, where he focused on the correlation between sea spray, whitecap coverage, and wind speed. His career brought him across the world to Ireland, where he completed another Doctorate of Science at the National University of Ireland. For two decades, he led the Connecticut Sea Grant program at UConn as its Director and initiated international marine sciences exchanges. In his retirement, Ed has not slowed down his scholarly productivity. He continues to publish scientific journal articles, remains active in the department, and stays abreast of all things oceanography by attending weekly seminars and brown bag presentations.
Dr. Penny Vlahos, chair of the symposium organizing committee, commented, "Ed and I have collaborated since I started as junior faculty. I thought it was appropriate to honor him and recognize his achievements and contributions. His work is still being cited today, especially by climate scientists in IPCC [Intergovernmental Panel on Climate Change] reports."
Some wonderful words come from Peg Van Patten, retired communications director for Connecticut Sea Grant, "Ed Monahan was my supervisor as Director of Connecticut Sea Grant for two decades, but he was really more than that.  Ed became my mentor, and friend, and sometimes my co-author. I learned so much from his experience that I was delighted when Professor Vlahos asked me to help organize a symposium in his honor.  The day was a perfect tribute to Ed's remarkable career and many accomplishments."
Throughout the symposium, selected guests gave scientific talks on topics related to Ed's research interests: sea spray, white caps, and air-sea interaction. Other speakers included grant recipients from Connecticut Sea Grant, collaborators, rowing partners, and students. In his retirement, Ed helped organize Coastsweek Regatta, a local rowing competition in Mystic, with 2019 marking the 28th consecutive year. At the closing of the day, attendees, family and friends enjoyed celebratory beverages and birthday cake appropriately decorated with a large wave. Allison Staniec, a current Ph.D. student who works directly with Ed, summarized the day quite well: "The Monahan Symposium (Twixt Wind and Waves) was an enjoyable celebration of Ed's past and ongoing career with plenty of time for ground breaking science and entertaining anecdotes. And cake!"
The Festschrift book, "Recent Advances in the Study of Oceanic Whitecaps," edited by P. Vlahos and E. C. Monahan (Honorary Editor) will be published by Springer Nature shortly.