By Ewaldo Leitao.
When we say we work or study oceanography, it is common for us to be met with a: "Wow, you must spend a lot of time doing cool stuff in the ocean then!" Alas, most of us spend most of our time on a computer. However, cruises are still an essential part of oceanographic research to collect the necessary data or test equipment. In our department, many students have this opportunity to participate in such cruises; all with fascinating and unique research interests. Over the past year, several students joined cruises to get familiar with field techniques, collect their own data, or to better understand their study area. In this piece, graduate students in our Marine Sciences department shared their experiences in cruises that took place from Summer 2022 up to May 2023.
Graham Trolley, graduate student at the Dierssen OPTICS lab went on a cruise to measure microplastics optics in the great pacific garbage patch!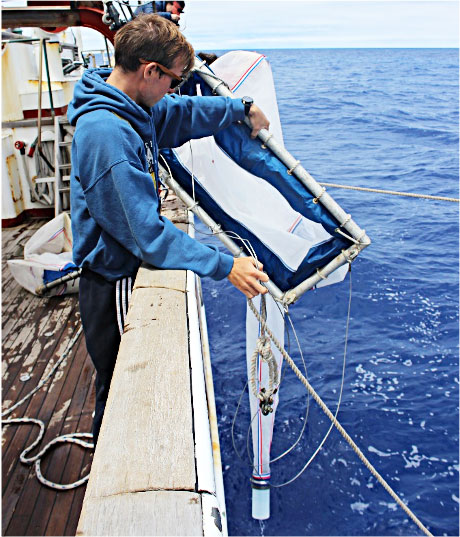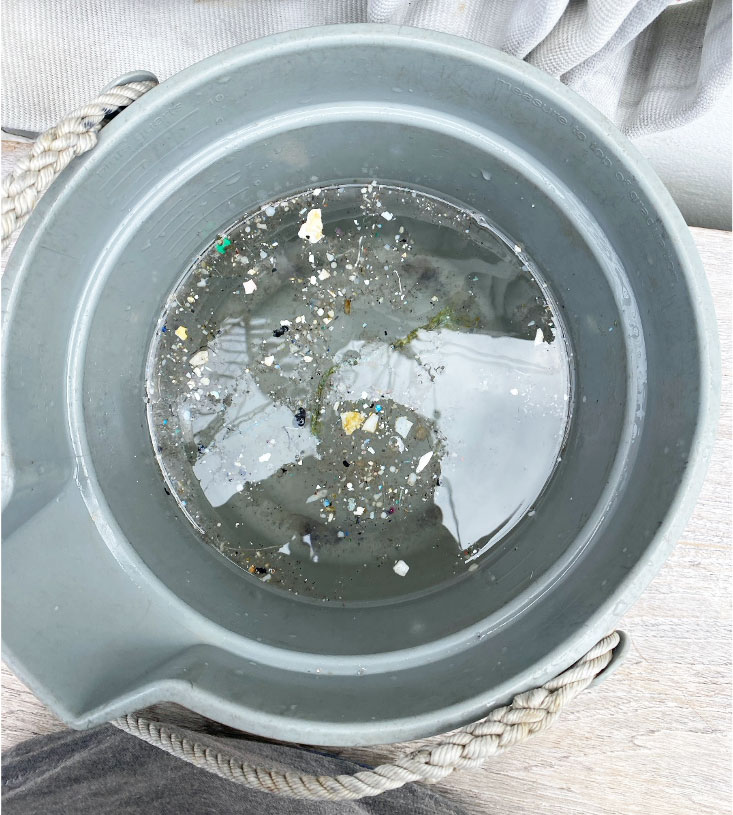 "In the Summer 2022 I participated in the Sea Education Association (SEA) summer cruise through the great pacific garbage patch, which sailed from Honolulu, HI to San Diego CA, starting In late June and ending in late July. SEA typically runs programs with undergraduates, who take part in cruises to learn about oceanography, sailing, and earn course credit. As a grad student, I was able to tag along as a visiting scientist and focus on collecting data.
My research focused on taking optical measurements, such as spectral reflectance, of freshly-collected plastic pieces. Previous work has been published on plastic spectral reflectance properties, but these measurements were made on dried and stored samples. Out in the environment, plastic pieces are likely to have some degree of biofilming growing on them. So, I sought to collect spectral reflectance measurements of freshly collected plastics in order to assess how the presence of biofilms might impact plastic spectral reflectance. Knowing this will be useful for sensitivity analyses seeking to develop a satellite-based ocean plastic detection algorithm.
During the cruise, I conducted daily neuston net tows to collect plastic pieces. Neuston nets are towed along the surface of the water to collect as many buoyant plastic pieces as possible. Once collected, I rinsed the plastics out of the net and into a bucket, then picked them out and aggregated them for spectral measurement."
---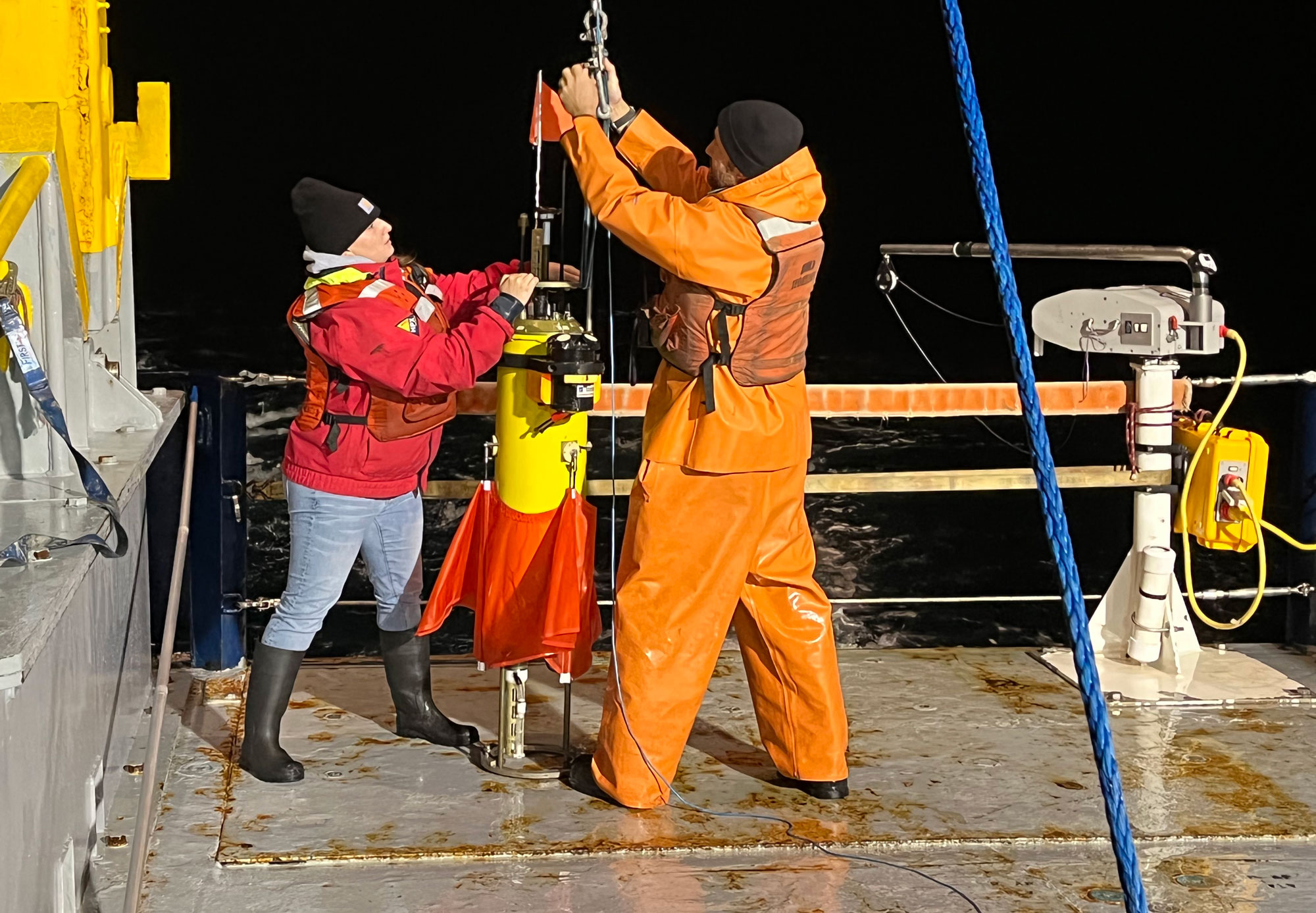 Mackenzie Blanusa, physical oceanography graduate student, does a lot of math and computer work, but she had the opportunity to take part in two different cruises in the last academic year! She got some hands-on experience in the first one, and in the second she is participating in the cruise that collects data for her study area in the Brazil Margin.
"I participated in NASA's Sub-Mesoscale Ocean Dynamics Experiment (S-MODE) IOP1 as part of the science party aboard the R/V Bold Horizon. The cruise took place from 10/06/2022 – 11/04/2022 in the Pacific Ocean, approximately 100 miles offshore of San Francisco, California. The focus of this experiment was to sample ocean fronts that are a few kilometers in size to study their dynamics and effects on vertical transport. The ocean fronts were sampled using aircraft, ship surveying, and autonomous platforms such as wave gliders, sea gliders, saildrones, floats, and drifters. I worked the night shift from 4pm – 4am, running an instrument called an EcoCTD, which measures temperature, salinity, pressure, chlorophyll, backscatter, and oxygen. I also helped with the recovery and deployment of wave gliders and mixed layer floats.
I am currently (03/06/2023 – 04/06/2023) aboard NOAA's R/V Ronald H. Brown for U.S. GO-SHIP's decadal reoccupation of A16N in the Atlantic Ocean. I am participating in the first leg of the cruise, sailing from Brazil to Spain. The second leg of the cruise will be sailing from Spain to Iceland. This is a longline hydrographic cruise, where we take CTD casts at many stations along the same longitude line. The CTD rosette has 24 bottles and is deployed to the bottom of the ocean. I am working with Dr. Chris Langdon's research lab out of the University of Miami. The Langdon lab is leading measurements on oxygen, pH, and total alkalinity. I am overseeing pH measurements using a spectrophotometer. Other groups are taking measurements which include DIC, DOC, CFCs, velocity, temperature, salinity, and biological samples. The best part of my trip so far has been getting to explore Brazil, crossing the equator, and viewing beautiful sunrises every morning."
---
Yipeng He, alumnus of the Mason Mercury Lab, studied air-sea mercury exchange in the ocean for his PhD, also had cool research experiences in cruises.
"I was on a scientific cruise - the GEOTRACES GP17 cruise, leaving San Diego (CA) on Nov 13 2022. Going from North Pacific to South Pacific, crossing the Equator, going further south and crossing the Antarctic cycle, and arriving at Punta Arena (Chile) on Jan 25 (2023). The boat was R/V Roger Revelle, which was my second time sailing on this boat. The first time was the GEOTRACES GP15 cruise in 2018. I was collecting samples and measuring atmospheric mercury species, air-sea exchange of mercury species and surface ocean Beryllium-7 profile."