Graduate student Mackenzie Blanusa (a MSc student in Professor Cesar Rocha's group) has written a blog post about her experience on the NASA Sub-Mesoscale Ocean Dynamics Experiment (S-MODE) research cruise.
Mackenzie says: "I had been patiently waiting and dreaming about this research cruise for months. Yet a few days before traveling from Connecticut to Oregon for ship mobilization, I couldn't shake a feeling of denial – like I couldn't believe I was really going to be out in the Pacific Ocean on a research vessel for an entire month. … S-MODE is wrapping up in a few days and I'll be on my way back home. The sense of denial I once felt has been replaced with self-confidence and motivation to pursue a career as a seagoing oceanographer. I have learned so much from all the other scientists on board who are more than happy to share their knowledge with a curious graduate student. Although S-MODE is ending, I know this is just the beginning of my journeys at sea."
Congratulations to Mackenzie and the team on a successful expedition, and we look forward to seeing you back on campus!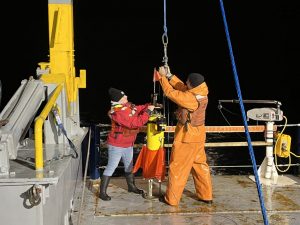 ---