On September 23, 2022, the Department of Marine Sciences helped to welcome 200 students from 12 high schools across Connecticut to the Avery Point campus for the annual Early College Experience Cardboard Boat Race event. These students are taking UConn courses at their local high schools and also prepared boats made only from cardboard and duct tape, which they raced in the waters off of Avery Point in the afternoon.
Prior to the races, Professor Matassa shared a presentation on the life of an ecologist and Professor Manning described how oceanographers use new technology to study changing ocean chemistry. Graduate students Mackenzie Blanusa and Riley Pena led a demonstration on the buoyancy of different vegetables. We look forward to seeing some of these high school students join the UConn Husky family in the future!
Congratulations are also on order for Marine Sciences undergraduate Devan Barnum who won the Avery Point community cardboard boat race on September 21, on behalf of the men's basketball team!
Check out this article in The Day for more photos of the boat race.
The photos below were taken during the event  and are provided by Michael Illuzzi, Gordon Daigle and Cara Manning.
Top: Graduate Students Riley Pena and Mackenzie Blanusa led a demonstration on buoyancy.
Middle: Prof. Matassa conducts a presentation on the life of an ecologist
Bottom: Prof. Manning dressed as a pH indicator for a presentation on changing ocean chemistry.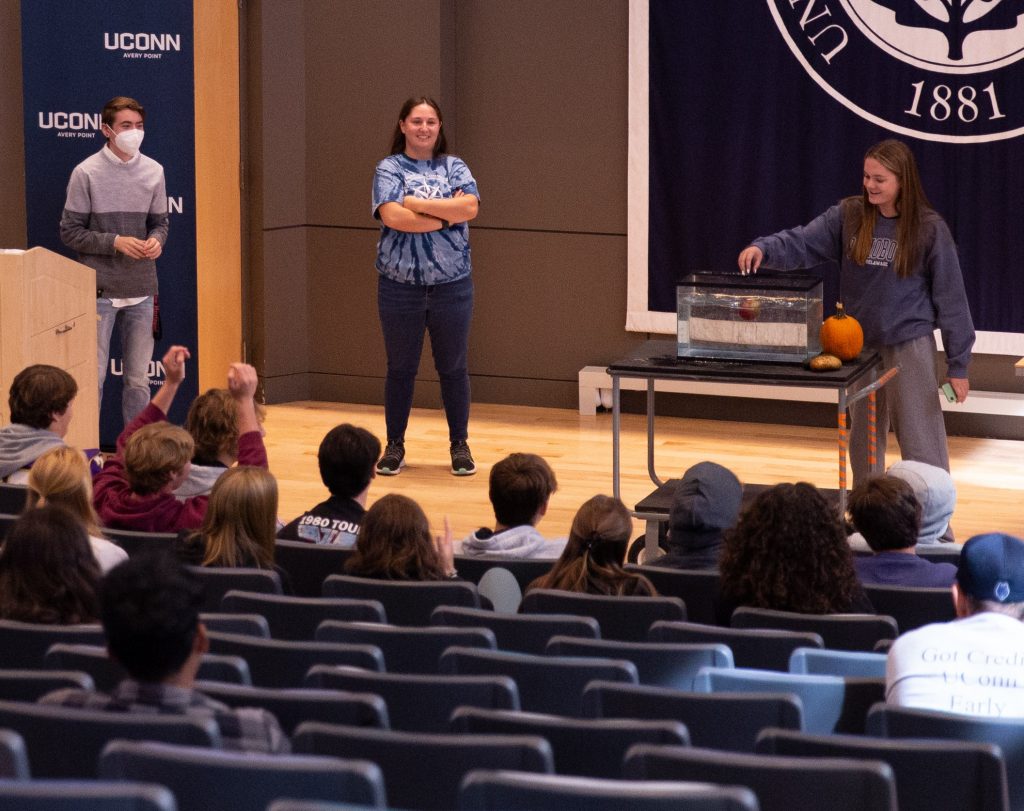 ---