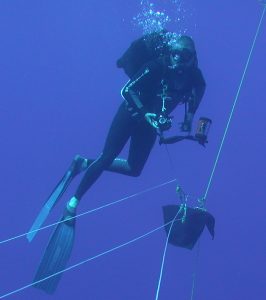 Jeff Godfrey has been providing diving support for the Department of Marine Sciences (DMS) since 1999, on projects ranging from studying salps in frigid Antarctic waters to studying fish in the Great Barrier Reef. Before his time at UConn, Jeff worked in the sunny Florida Keys. The news of the diving officer job ad was mentioned to him by a friend who started working at the UConn library. DMS flew him up to not-as-sunny Connecticut for the interview, and he was offered the job. Though it doesn't compare to the Keys, Jeff says CT is growing on him.
At DMS, Jeff is a vital part of our department, providing diving support as part of our marine operations, and helping students, staff, and faculty that utilize diving as a research tool. He also provides training for beginner scuba divers, through the course Intro to Scientific Diving, as well as offering various advanced certifications.
Jeff's favorite part of the job is interacting with the students, he says "they make the job fun and sometimes they remind me of how old I am, but sometimes they keep me young too."  Several of the students that were scuba certified through Jeff's class went on to careers that utilize diving, including an instructor at NOAA diving facility and a diving safety officer at URI.
For Jeff, diving is not just a job, but also a passion. He spends many weekends diving, exploring a lot of local wrecks. "When I retire, I don't plan on changing much."
---