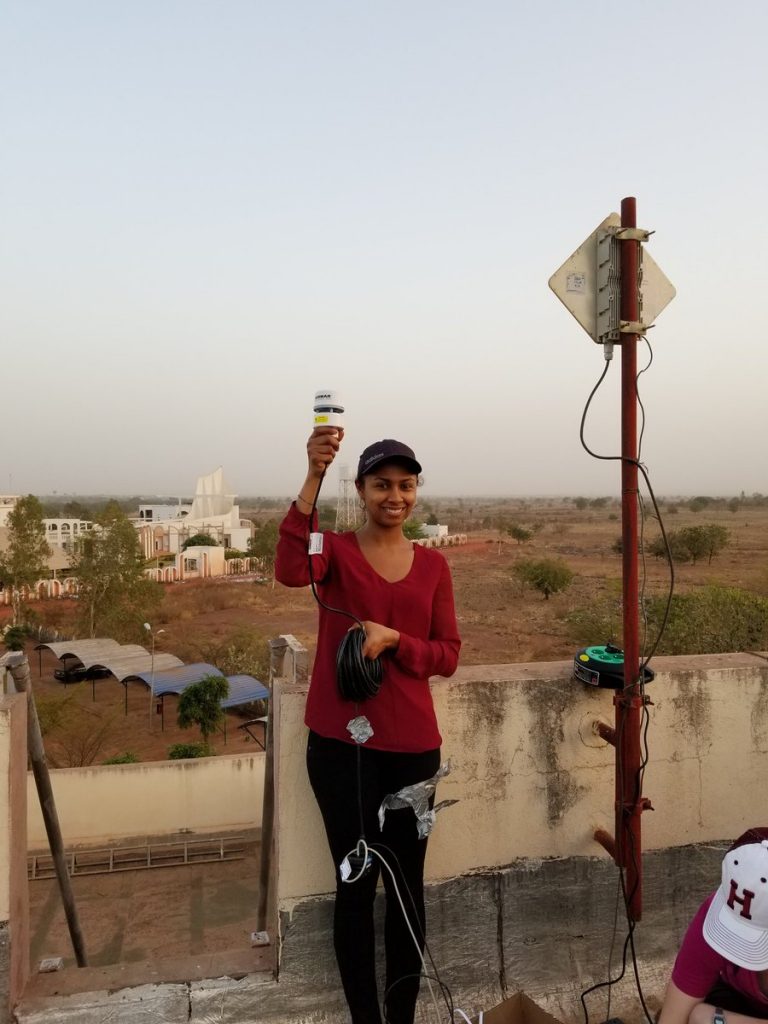 Dr. Amina Schartup is a Marine Sciences alumna who recently started as an assistant professor at Scripps Institute of Oceanography, University of California, San Diego. She is currently working on setting up her lab at Scripps. Amina received her PhD in Oceanography in 2012. At UConn, she studied mercury cycling in sediments with Dr. Robert Mason. This interview was carried out by Patricia Myer, a current graduate student, on October 23rd, 2020. We discussed her current situation, unique career path, and advice for grad students.

Patricia: Would you mind telling me about setting up a lab during these times?
Amina: I think that setting up a lab in normal circumstances is quite challenging, because you have so many moving pieces. It's really difficult to know where to start. You have to build the lab, the physical space, but then you also have to build the group – build that cohesion between you and whoever comes into your group, and start a culture. People don't think about it sometimes, but that's when you decide what the culture of your group is going to be.
You also have to equip your lab. You need to buy the instruments, deal with salespeople, choose what you want down to the smallest beaker. It's just a lot of details, and now we're doing a lot of this remotely, without the option to meet in person. Bringing in students and creating that culture in your group when you cannot be in the same room is not ideal.

Q: What path did you take to get to your current position from UConn?
Amina: After I graduated in 2012, I started as a postdoc at the Harvard School of Public Health, working with Elsie Sunderland. I was there for two and a half years, and then she actually moved to a different position at the Harvard School of Engineering and Applied Sciences. I moved with her as a Research Associate until 2017. In 2017 I started an AAAS Science and Technology policy fellowship. I was placed at the office of Polar programs at NSF, and I was there until 2019. After that I came to Scripps.
When I started the AAAS position, I was trying to figure out what I wanted to do career-wise. I wasn't decided on whether I wanted to remain in academia or not. There were three reasons why I wanted to do this fellowship. One – I thought that if I wanted to stay in academia, considering that a lot of students who get a PhD do not necessarily end up in academia, I thought it would be difficult for me to advise them on career paths and choices if I had no experience with what a career looks like outside of academia. AAAS has such an amazing track record at placing PhDs in all kinds of private and government positions, they have a vast network of people that you can reach out to at any time. I thought it would be great to have these connections, so if my students decide they don't want to stay in academia, I have someone to reach out to, and I also know what these jobs look like.
Another reason is that I did not want to commit to a career path in academia for myself without knowing the other options out there, and whether this is the one thing that would work well for me in the long-term. This exposed me to those other jobs. I decided to go back to academia.
The other reason was that if I want to go into academia, I needed to know how proposals work and how to get funded. Being at NSF is a better place to learn how to write a good proposal, what gets funded, and how the review process works. A lot of people go into NSF as a rotator later on as academics. I thought it would be really nice to go in early on before I start the position, and that would increase my chances as I pursue my academic career. Those are the main reasons why I wanted to go into AAAS.
The difficulty was that if you want to go to academia, you have to maintain a productivity output of sorts. Which means I actually had two jobs. I had to do my AAAS job and I also had to do my academic job, so I was working three 11-hour days and one 7-hour day at NSF. Then the rest of the week would be science work, so, papers and research projects. I went out to the field on vacation time and did all kinds of crazy things to make sure I could still produce science while I was at NSF.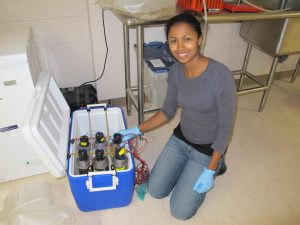 Q: What did you study at UConn, and how does it compare to what you do now?
Amina: I did my PhD in Oceanography with Rob Mason, and I studied mercury cycling in sediments mostly for my PhD work, and then I had one side project where I was looking at what was happening in the water. I would say that the work I'm doing now is still quite similar, I still work on the same element for the most part. I think that where I grew was on the scale. I was mostly focused on smaller coastal areas, and as I moved through the different positions, I think the scale of my research changed to a more global and more of a systemic perspective, rather than just one aspect of the system such as sediment. This still in flux, this is partially what I'm trying to decide in my new position. What is it that I want my research to look like and what is it that I want my lab to do? It's actually quite exciting.
Q: How much freedom do you have in choosing exactly what your lab does? I know a lot of people working on their PhDs aren't sure if they're locked into similar projects for the rest of their career.
Amina: In theory, you have unlimited choices, I can go out there and decide I want to study leaves. Your limitations are your own capabilities and knowledge of course, but also what people are willing to let you get away with. As a scientist, you can be curious about anything, but at the end of the day you need to get your research funded and your papers published. Somehow these aspects are also related to what people's perceptions are of your capabilities.
I recently submitted a proposal about something that I thought was super interesting, and I really wanted to do, and I thought that I could actually do it – that even if I ran into difficulties that I could figure it out. And the proposal reviewers said 'you have no experience in this thing, you can't do it.' So that's where you get the pushback, you want to try something new, you want to try something different and branch out. You think you can do it, but people tell you that you can't, so they don't give you the money to actually try it out. I think that's the issue.
When you're trying to do something new, you have two options. You can work with somebody who is already well-established in the field and get in this way. Or, you can do the preliminary work and publish it, and show that you know something, and then you can rely on this to try something new.

Q: What would you say during your grad school experience best helped you prepare for your career?
Amina: It's really difficult to pinpoint exactly what made a difference. There are a few things. One thing was that I didn't have a set project that I came in to work on. I really had to come up with my own science, and I didn't necessarily have all the extra cash that comes in with a project to get analysis done and so on. I had to just run around the department and figure out how to use the instruments that were available, and think hard about how I can use my resources to do impactful science. Just having the freedom to think through it and work through it at my own pace, without the pressure of being on a specific project that needed deliverables, I think in the long run was helpful to me. I got lucky that what I tried out worked, it could have not worked and impacted my career in a negative way. So, in a way it was a combination of luck and the fact that I could just run around and do whatever I wanted, which was really nice.
Q: What advice would you have for current grad students?
Amina: I think maintaining a life on the side is really important. I had two children during my PhD, my son was born in my first year and my daughter was 7 months at my defense. My husband always jokes that having children was really good for me because it forced me to have a life outside of the lab. That if it wasn't for them, I would be there 24/7, and I think that's true. I think that being forced to get out of that space and stopping the constant working and pushing yourself to extremes, and having a side life is good. It gives you the time to let ideas mature in your head, because I think our brains continue to work even if we're not necessarily focused on something. So, if you're stuck with an issue in the lab and can't see the big picture, I think having some time and space outside will let your brain do the work in the background.
I think another thing that is really important is understanding that this is a personal journey, it is a collaborative journey, but it is a personal journey. You should make sure that you work with people and not compete with people, and really think about the fact that we all have our own paths to success, and it's really hard to tell what somebody's path will look like, you can only see it in hindsight. So, if you're competing on a day-to-day or week-to-week basis, it's not good, because you don't know where the person is going to go, and where you are going to go. If I was really focused on looking at what everybody was doing and how this reflects on me, and whether I fit in, having two children, I probably would have given up, because I wasn't as productive as I should have been or working as hard as I should have been. I just left that on the side and did what I needed to do. And it just worked!
---