DMS scientists digitized old records from Project Oceanology and discovered a treasure chest of data on warming oceans and shifting marine populations
For more than 45 years, the non-profit Project Oceanology on UConn's Avery Point Campus has inspired middle and high school students to care about the ocean. Students learn how measure water temperature, pH and oxygen and sift through trawl catches of fish and crabs that many have never seen for real before. Thereby, Project Oceanology did something else of enormous value: it routinely collected data for decades. Steel cabinets swallowed the student's records and obliviously guarded this growing treasure.
In 2016, Master's student Jacob Snyder and Professor Hannes Baumann decided to lift the treasure. They painstakingly entered every recording from every data sheet they found, anxious for the time, when the data would finally speak. The study, published in April 2019, shows how rapidly temperatures in eastern Long Island Sound have increased over the past four decades (+0.45C per decade), at a rate four times faster than in the global ocean (Levitus et al. 2000). This is also true for the larger Northwest Atlantic shelf, of which Long Island Sound is a part, where some areas have warmed faster than 99% of all ocean waters on earth (Pershing et al. 2015).
Another symptom of marine climate change is ocean acidification, measured as a pH slow decline in the ocean which swallows the increasing amounts of carbon dioxide emitted by humans (Doney et al. 2009). In coastal waters, nutrient pollution (e.g., nitrogen, phosphate) from sewers, waste water treatment plants and fertilizer runoff can intensify acidification. The Project Oceanology data revealed that pH declined much more rapidly in Long Island Sound than globally, which could imply worsening conditions for shellfish farmers.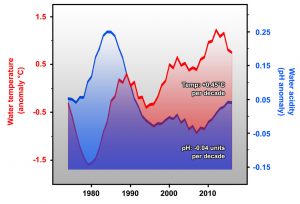 Trawl records were particularly telling, showing that cold-water species such as American lobster, rock crab or winter flounder became less frequent over time. This is exactly what long-time instructors at Project Oceanology said they had noticed too. Lobsters once supported a proud fishery in Long Island Sound, but warmer, more acidic waters, shell disease, and overfishing have now decimated them to nearly complete absence.
However, a winner of dubious qualities emerged too. Over the past decades, spider crabs have moved into Long Island Sound from the south and are now the dominant crab species in the trawls. Spider crabs are no equivalent to lobsters, humans do not like to eat them and they can alter the ecosystem, as they eat much more plant-based food than lobsters.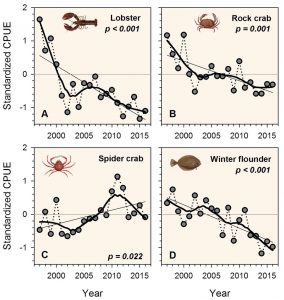 Long Island Sound has been rapidly changing, and the data collected by generations of middle and high school students re-affirmed this. Other time-series from Norwalk Harbor and the Connecticut Department of Energy and Environmental Protection (CTDEEP) have shown similar trends. It is therefore undeniable that marine climate change is happening right now in Long Island Sound.
Snyder, J., Whitney, M., Dam, H., Jacobs, M., and Baumann, H. Citizen science observations reveal rapid, multi-decadal ecosystem changes in eastern Long Island Sound. Marine Environmental Research 146:80-88
Contacts/Links:
Hannes Baumann, Assistant Professor, Department of Marine Sciences, University of Connecticut, 1080 Shennecossett Road, 06340 Groton, CT, hannes.baumann@uconn.edu, Twitter: @Baumannlab1, 860-405-9297
Project Oceanology: 1084 Shennecossett Road, 06340 Groton, CT www.oceanology.org, Twitter: @Proj_Oceanology
---