Prior to the launch of the original R/V Connecticut in 1998, the University had operated a former U.S. Army-Transport boat (a T-441) acquired from Scripps Institution in 1969 and renamed the R/V UConn. Because it had a limited capacity for research instrumentation, it only spent about 20 days per year at sea. To develop modern marine research, the Department of Marine Sciences (DMS) and the former Marine Sciences and Technology Center eventually proposed a purpose-built coastal research vessel.
In 1996, Roger Long and the Elliott Bay Design Group designed the R/V Connecticut followed by construction in the fall of 1997. J. Turner Cabaniss, our current Marine Operations Manager, was hired in 1998 as captain and to provide onsite supervision of the construction. The boat's design and construction were funded by state economic development funds through a state agency called Connecticut Innovations in addition to a loan from the University. The original R/V Connecticut was a 76' research vessel with 12 bunks and a small lab space. It was equipped for heavy-duty oceanographic research with features like a stern A-frame for lifting buoys and a deck crane. It could house 7 scientists and 5 crew members and spent about 125 days at sea a year; being repeatedly chartered by other research institutions and federal agencies including NOAA, Woods Hole Oceanographic Institution, and the University of Maine.
The vessel operates as a university service center that is largely self-supporting through funding from federal agencies, making it realistic for UConn to house the boat, charter it to other researchers, and use for DMS research. The R/V Connecticut is well traveled along the east coast, particularly in Long Island Sound and Gulf of Maine waters. It has even spent some time in the great lakes, when Dr. Bob Ballard chartered the vessel for ROV work in the Thunder Bay NOAA Marine Sanctuary. To support Ballard's work, NOAA provided funds to incorporate dynamic positioning into the R/V Connecticut's existing propulsion. Dynamic positioning works through a computer integration of the bow and stern thrusters to maintain the boat's position above ground. For a small research vessel, this is an extraordinary feature.
However, more recently the ship's limited bunk and lab space proved to be an obstacle for larger collaborations and research expeditions. According to Dr. James O'Donnell, this was apparent during projects like the LISICOS program (Long Island Sound Integrated Coastal Observing System, 2004-2006), a large interdisciplinary estuarine project with more than a dozen researchers involved. People had to be shuttled on and off the ship throughout an expedition to meet project needs. With funding from the Provost and the College of Liberal Arts and Sciences, the R/V Connecticut was refitted in 2017, with the addition of a 14′ mid-body extension, making it a 90' vessel. The ship now holds double the lab space and 18 bunks for 5 crew members, a technician, and 12 scientists. The refitted boat is already benefiting DMS's education program in the form of a graduate level course for ocean expeditions and will allow for greater collaboration opportunities at UConn and other marine research programs.
Read more about the recommissioning here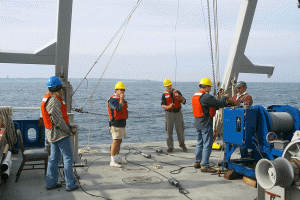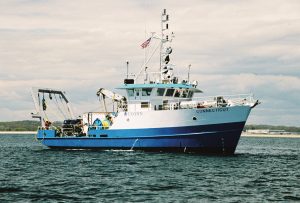 ---