Hannes Baumann, an assistant professor in the University of Connecticut's Department of Marine Sciences is the co-PI on a project which has received more than $325,000 from the National Science Foundation for a collaborative project to study this perplexing phenomenon with Nina Therkildsen, PI on this project and assistant professor of natural resources at Cornell University. The total funding for this project is $1.2 million over three years.
Baumann and Therkildsen's project will begin by characterizing genome-wide patterns of differentiation in silverside fish populations. The silverside exhibits a remarkable degree of local adaptation for several traits including growth rates.
You can read the complete article by Anna Zarra Aldrich here: https://today.uconn.edu/school-stories/unlocking-genomic-mechanisms-atlantic-silverside/.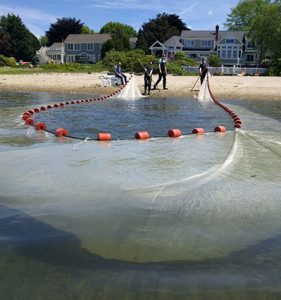 Hannes Baumann and his research team sampling silversides with a beach seine in Mumford Cove, CT. (Chris Murray/UConn Photo)
---