This past November, a group of graduate students from the Department of Marine Sciences attended the 24th Biennial Conference of the Coastal and Estuarine Research Federation (CERF) in Providence, RI. Many prepared either poster or oral presentations for sharing throughout the week, ranging from topics of citizen science to salt marshes. Professors also attended, presented, and convened sessions including: Jaime Vaudrey as the Chair of the Scientific Program Committee, James O'Donnell, Michael Whitney, Hannes Baumann. The full scientific program of the conference can be found here.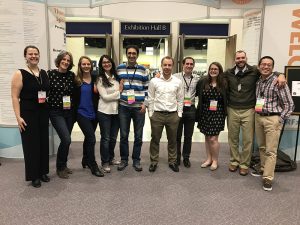 Group of graduate students who attended CERF 2017. (Pictured left to right: Molly James, Michelle Fogarty, Julie Pringle, Maryam Mirhakak, Amin Ilia, Jacob Snyder, James deMayo, Vena Haynes, Steven Deignan-Schmidt, and Yan Jia. Not pictured: Gunnar Hansen.)
In February, more students and professors will attend the 2018 Ocean Sciences Meeting in Portland, OR.
---