UConn Marine Sciences was well represented at the 13th International Conference on Copepoda (http://13icoc.org/), July 16-21, Los Angeles, USA.  The conference was attended by scientists from 30 countries and dealt with all aspects of copepods (tiny crustaceans that are the most abundant animals on the planet).
PhD student Matthew Sasaki received the very first prestigious Kabata award for best student oral presentation for his talk, The remarkable thermal generalist performance curve of Acartia tonsa: Implications for survival in a warming climate. PhD student James deMayo received an award for outstanding poster for his presentation,  Combined effects of warming and acidification on life-history traits of Acartia tonsa, and visiting PhD student  Érika Pinho Correia (Federal University of Pernambuco, Brazil) also received an award for outstanding oral presentation for her talk, Is there any pattern of diel vertical migration of microzooplankton in the equatorial Atlantic?. All three students are members of Professor Hans Dam's research group ( http://marinesciences.uconn.edu/faculty/dam/).
Warm congratulations to Matt, Jimmy and Erika!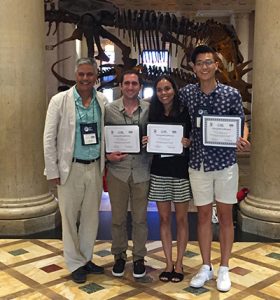 Photo caption:
From left to right: Prof. Hans Dam, James deMayo, Erika Pinho Correia, and Matthew Sasaki at the Student Award Ceremony (Museum of Natural History of Los Angeles) of the 13th International Conference on Copepoda.
---