Response to COVID-19: Please check here for an update on the next lecture, stating whether we will be solely online or using a hybrid approach of in-person with an online option.
Format for February 8, 2022: TBD
---
Public lectures on coastal issues.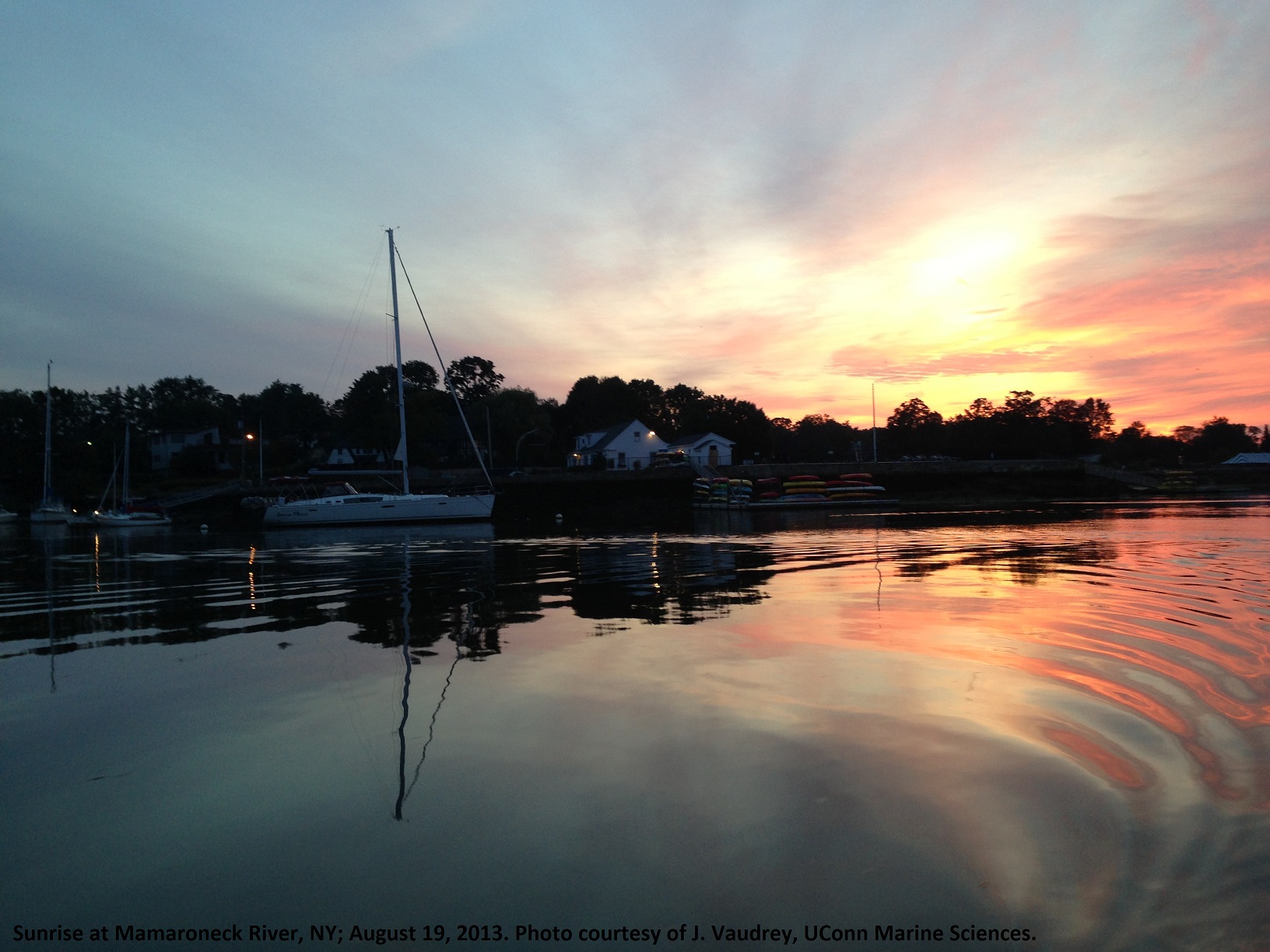 Lecture series is FREE and open to the public.
Lectures begin at 7:30 p.m.
This series is sponsored by Connecticut Sea Grant College Program, UConn Department of Marine Sciences, UConn Maritime Studies Program and the UConn Avery Point Campus Director's Office. 
For more information or to be added to our email list, send an email to CoastalPerspectives@uconn.edu.
Want to Join the Online Lecture?
All lectures will be offered online. If conditions allow, we may also offer a hybrid option where you may attend in-person or online.
Check below each lecture title on this page, to get connected to the event.
Want to receive all of the connection links for the season in one email? Send an email to CoastalPerspSignOn@uconn.edu (No message or subject is necessary, you will receive an automated reply within ~30 seconds. Check your spam, junk, or trash folders if you do not receive the email.)
Guidance on using Webex (our online platform). JPG   PDF
Trouble-shooting Tips
The best online experience is achieved by downloading the app (versus using the online browser option).
Having trouble logging in? Try using a different web browser – Chrome or Firefox is recommended by Webex.
Having audio issues? Watch the presentation on your computer and use a phone to call-in for the audio.
Can't hear? Confirm that the speakers on your computer are unmuted (speaker icon should not have an "x" over it).

When you sign on, you will be muted and video will be disabled – you will not be able to turn them on. If you have a question, you may type in the Chat box or you can request to be unmuted in the Chat box – we'd love to hear your voice, so please feel free to make this request! (You may also turn on your video during the Q&A period, upon request.)
2022 Lecture Highlights
Please join us for our 26th season. This annual lecture series spans the breadth of human interactions with coastal waters, including speakers from the natural and social sciences as well as arts and humanities.
Tuesday, February 8, 2022; 7:30 p.m.
Kris Ohleth, Director, Special Initiative on Offshore Wind
David Bidwell, Associate Professor, Marine Affairs, University of Rhode Island; Affiliate Scholar, Institute for Advanced Sustainability Studies–Potsdam
moderator: Angela Silva, Social Scientist- Fisheries & Offshore Wind, ECS Federal, Inc. In support of: NOAA Fisheries, NEFSC, Social Sciences Branch
Examining the potential opportunities and challenges for New England's emerging offshore wind industry
Description coming soon.
click here for more information
Tuesday, February 22, 2022; 7:30 p.m.
Kimia Shahi, Ph.D., Assistant Professor, Department of Art History, University of Southern California & currently serves as Kernan Brothers Environmental Fellow at the Harvard University Center for the Environment
"Uncertain Contours": Coasts at the Confluence of Science and Art in 19th-century America
For American artists, navigators, scientists, and intellectuals in the mid-through-late 19th century, saltwater coastlines afforded productive, yet often disorienting, encounters with some of the natural world's most elusive, dynamic, and interconnected forces, phenomena, and life-forms. This talk traces the roles of visual representation in mediating these encounters, which unfolded as imperial expansion and technological modernization transformed human understandings of—and interactions with—non-human nature in the U.S. and beyond. Forging connections across art, science, and visual culture, the innovative ways of seeing and picturing shorelines brought together in this talk not only reflected the period's changing human-environment relationships but also shaped and informed them in meaningful ways.
click here for more information
Tuesday, March 8, 2022; 7:30 p.m.
Heidi Dierssen, Ph.D., Professor, Department of Marine Sciences, University of Connecticut
Sensing New Connections between Earth's Greatest Fluids – the Ocean and Atmosphere
We are beginning to fully comprehend how changes in the coupled ocean and atmosphere together produce extreme weather events like the recent tornados in Kansas, droughts and wildfires in California and hurricanes along the Eastern seaboard. The ocean and the atmosphere are thousands of times wider than they are thick — like thin pages in a book. Their behaviors are intimately connected, but the two fluids are often monitored and studied as different chapters rather than woven together in a single story. NASA's upcoming Plankton Aerosol Cloud and ocean Ecosystem (PACE) satellite scheduled to launch in 2024 is the first mission designed by a team of atmospheric and oceanic scientists led by Dr. Heidi Dierssen here at the University of Connecticut. Join us to hear about this exciting new initiative!
click here for more information
Tuesday, March 22, 2022; 7:30 p.m.
Akeia de Barros Gomes, Ph.D., Senior Curator of Maritime Social Histories, Mystic Seaport Museum & Visiting Scholar, Center for the Study of Slavery and Justice, Brown University
Maritime Connections, Maritime Voices: African and Native American Histories of New England
The Mellon Foundation-funded collaborative project Reimagining New England Histories: Historical Injustice, Sovereignty and Freedom seeks to re-examine the framing of New England as an historical location of "freedom and justice for all."  Native American, African and African American narratives provide us with new lenses through which to understand New England's maritime story in a holistic way.  Indigenous North American and African perspectives on cosmology, time and the sea have largely been silent (or silenced) in the framing of New England's maritime history even though much of that history is one of Indigenous dispossession and racialized slavery. Working with Native American, African and African American descendant communities and telling history through their voices and the voices of ancestors provides insight into the enduring legacies, strength and resilience of the Sovereign Indigenous Nations and African-descended peoples of New England.
click here for more information
Tuesday, April 5, 2022; 7:30 p.m.
Thomas K. Clark, Woodworker | Clark Instruments
Building Solar Breeze – a Solar-powered Dory
Description coming soon.
click here for more information
Tuesday, April 19, 2022; 7:30 p.m. 
James M. Lindgren, Ph.D., Emeritus Professor, History Department, SUNY Plattsburgh
Blue Water Ports, Global Resources, and Commercial Empires: The Origins of the Nation's Major Maritime Museums
Today, the nation's major maritime museums—in Salem, New Bedford, Mystic, Newport News, San Francisco, and New York City­—have much in common, but when they were founded, their motivations were quite unique. From the beginning, each museum pursued its own global agenda. Whether it was the nation's first museum in Salem and its quest for East Indian markets in the 1790s, or the most recently established museum, South Street Seaport with its concerns about Gotham's slipping trade, globalism defined their agendas. Based on Jim's most recent book, Preserving Maritime America: A Cultural History of the Nation's Great Maritime Museums (Nov. 2019), this presentation will examine the origins of these half-dozen museums and give a brief hint of how they were later forced to change by focusing on their own locale.
click here for more information
Past lectures…
2021 Season:
Tuesday, February 9, 2021; 7:30 p.m.; Skip Finley, Author | Historian | Speaker; A Voyage of Discovery with Skip Finley;Play recording (missing first 15 minutes)
Tuesday, February 23, 2021; 7:30 p.m.; Andrew Kahrl, Ph.D., Professor of History and African American Studies, University of Virginia; The Struggle to Reclaim Connecticut's Coastal Commons; Play recording (1 hour, 23 minutes)
Tuesday, March 9, 2021; 7:30 p.m.; Chris Bowser, M.S., NYSDEC Hudson River Estuary Program and the Hudson River National Estuarine Research Reserve; The Hudson River Eel Project: Fish Conservation through Community Engagement; Play recording (1 hour, 20 minutes)
Tuesday, March 23, 2021; 7:30 p.m.; Beverly Goodman, Ph.D., Department Head, Department of Marine Geosciences, Charney School of Marine Sciences, University of Haifa; Ancient Tsunamis in the Mediterranean: How Past Disasters Save Lives Today; Play recording (1 hour, 16 minutes)
Tuesday, April 6, 2021; 7:30 p.m.; Prakash Kashwan, Ph.D., Associate Professor in the Department of Political Science and Co-Director of the Research Program on Economic and Social Rights, Human Rights Institute, University of Connecticut; Followed by a panel discussion with: Syma Ebbin, Ph.D., Research Coordinator, Connecticut Sea Grant College Program & Melva Treviño Peña, Ph.D., Department of Marine Affairs, University of Rhode Island; Confronting Issues of (In)Justice in Environmental and Resource Governance; Play recording (1 hour, 6 minutes)
Tuesday, April 20, 2021; 7:30 p.m.; Margaret Gibson; Connecticut State Poet Laureate, Prof. Emerita, UConn & David K. Leff; Poet, Lecturer, Former Deputy Commissioner of CT DEEP; Rousing the Ecological Imagination Through Poetry; Play recording (1 hour, 25 minutes)
2020 Coastal Perspectives Lecture Series
2019 Coastal Perspectives Lecture Series
2018 Coastal Perspectives Lecture Series
2017 Coastal Perspectives Lecture Series
2016 Coastal Perspectives Lecture Series
2015 Coastal Perspectives Lecture Series
2014 Coastal Perspectives Lecture Series