Response to COVID-19: Please check here for an update on the next lecture, stating whether we will be solely online or using a hybrid approach of in-person with an online option.
Format for next lecture: online or in-person (UConn Avery Point)
Per UConn guidelines, masking is not required, but is highly recommended.
For information on UConn's campus-wide COVID-19 policies and response, please visit https://covid.uconn.edu/
---
Public lectures on coastal issues.
Please join us for our 27th season. This annual lecture series spans the breadth of human interactions with coastal waters, including speakers from the natural and social sciences as well as arts and humanities.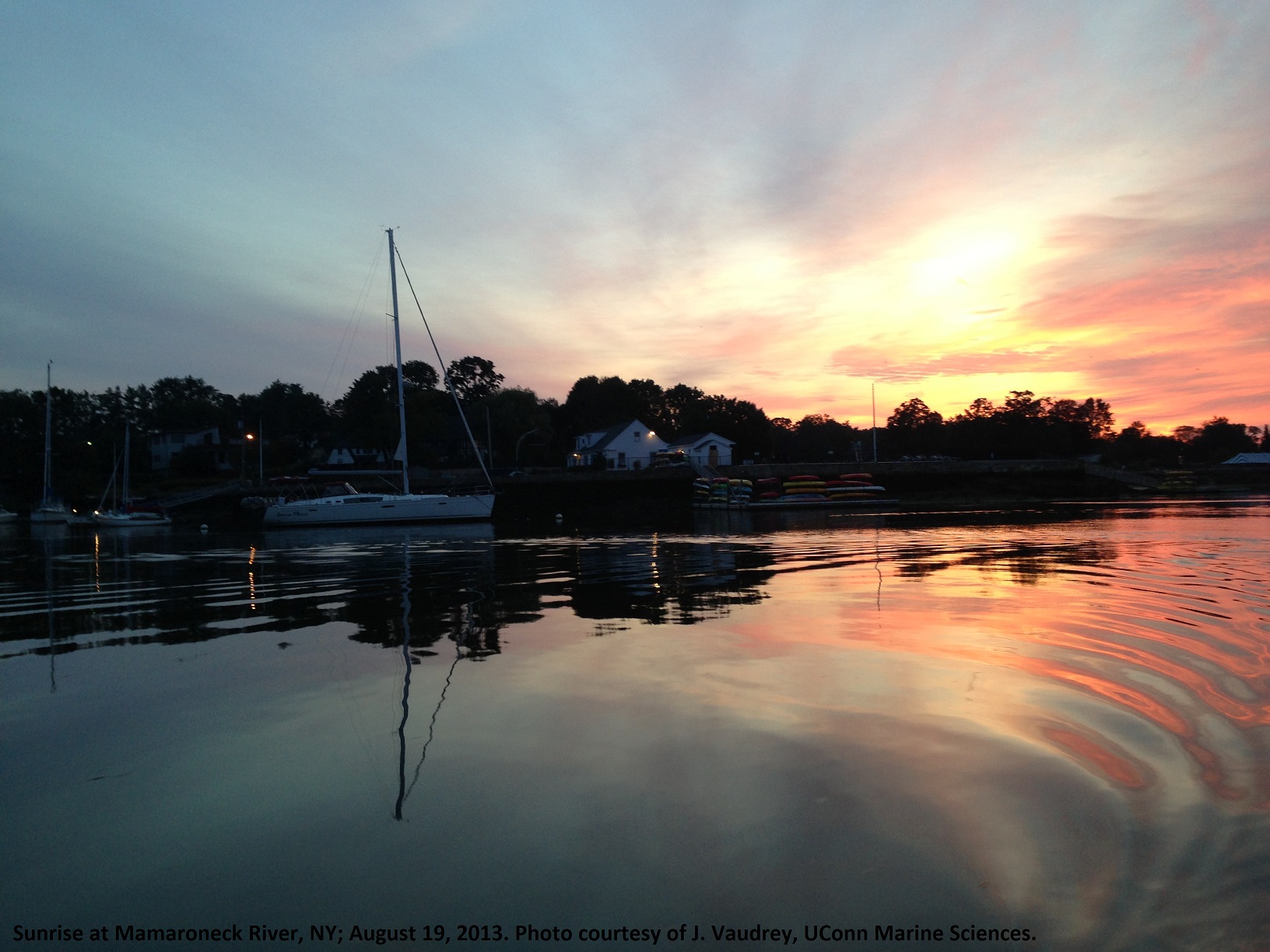 Lecture series is FREE and open to the public.
Lectures begin at 7:30 p.m.
A link to the online lecture is included below. Or join us in-person!
This series is sponsored by Connecticut Sea Grant College Program, UConn Department of Marine Sciences, UConn Maritime Studies Program and the UConn Avery Point Campus Director's Office. 
For more information or to be added to our email list, send an email to CoastalPerspectives@uconn.edu.
Want to Join us at the Live Event, In-Person?
The event is hosted in the Avery Point Auditorium (AUD): Directions | Campus Map.
Parking is free after 5 p.m.; closest lots are near the library (LIB) or in Lot B.
Enter from the Academic Building main entrance, the auditorium is on second floor at the end of the hall (mobility-disabled accessible); or enter through or near the Student Center and go up two flights of stairs. Campus Map
Want to Join the Online Lecture?
All lectures will be offered online and in-person.
Click to sign on: https://uconn-cmr.webex.com/uconn-cmr/j.php?MTID=m494b4191d888c869f971450a04d9dd01
Meeting number (access code): 2620 824 1981
Event password: coastal
Join the audio conference only:
+1-415-655-0002 US Toll
Use meeting number (access code) shown above.
Guidance on using Webex (our online platform). JPG   PDF
Trouble-shooting Tips
The best online experience is achieved by downloading the app (versus using the online browser option).
Having trouble logging in? Try using a different web browser – Chrome or Firefox are recommended by Webex.
Having audio issues? Watch the presentation on your computer and use a phone to call-in for the audio.
Can't hear? Confirm that the speakers on your computer are unmuted (speaker icon should not have an "x" over it).

When you sign on, you will be muted and video will be disabled – you will not be able to turn them on. If you have a question, you may type in the Chat box or you can request to be unmuted in the Chat box – we'd love to hear your voice, so please feel free to make this request! (You may also turn on your video during the Q&A period, upon request.)
2023 Lecture Highlights
Tuesday, February 7, 2023; 7:30 p.m.
Molly James, Ph.D. Candidate, Department of Marine Sciences, University of Connecticut
Harmony of Nature – fostering connection to the environment through music
Harmony of Nature is an international collaboration, science communication, and experimental music project between pianist Hea Youn "Sophy" Chung and oceanographer Molly M. James. Born out of an unlikely friendship and language exchange during the COVID-19 pandemic, Chung and James conceptualized the project and received initial funding from Arts Council Korea to plan and test its feasibility. Harmony of Nature converts natural phenomena into sounds through coding technology and expresses them in classical music. After converting data into sound, the goal is to convey current climate change and natural flow by expressing the nuances (shape, texture, etc.) of the natural phenomenon in classical music. By expressing invisible science and natural phenomena through art, we want to more effectively convey scientific concepts, especially the effects of climate change, through music. Ultimately, we want people to connect emotionally with nature and better understand their local environment.
click here for more information
View the recorded lecture (1 hour, 32 min)
Tuesday, February 21, 2023; 7:30 p.m. 
Tim Pettee, Founder and President, Greens Ledge Light Preservation Society Inc.
Preserving Our Maritime History: The Epic Restoration and Bright Future of Greens Ledge Light
Tim is the founder and President of Greens Ledge Lighthouse Preservation Society. With initial funding from Tim and the Pettee family, The Greens Ledge Preservation Society bought and led the renovation of the 120-year old Greens Ledge Light located one mile offshore in Long Island Sound west of the Norwalk Islands. The 5-year, $2 million restoration was completed in summer 2022. Join us as Tim explores the history of Greens Ledge Light, one of many offshore sparkplug lighthouses in the Northeast US and shares the bold plans for the next 100 years of the lighthouse.
click here for more information
View the recorded lecture (1 hour, 57 min)
Tuesday, March 7, 2023; 7:30 p.m. 
Timothy Dale Walker, Ph.D.; Professor of History, University of Massachusetts Dartmouth; Guest Investigator, Woods Hole Oceanographic Institution
Uncovering and Recentering the Maritime Underground Railroad
Underground Railroad scholarship has focused almost exclusively on interior overland routes used to escape enslavement in the Antebellum South. Largely overlooked, however, is the great multitude of enslaved persons who made their way to freedom aboard merchant vessels plying coastal routes along the Atlantic seaboard. This crucial but neglected aspect of the Underground Railroad story is the focus of this talk — and a groundbreaking volume of essays edited by Timothy Walker published in 2021. With innovative scholarship and thorough research, Sailing to Freedom: Maritime Dimensions of the Underground Railroad demonstrates that escaping bondage by sea was commonplace — especially from southern coastal regions where slave labor in maritime industries was ubiquitous. Such work gave enslaved people experience with vessels and seafaring, a knowledge of coastal geography, contact with ships' crews from northern free states, and access to ocean-going northbound voyages. Successful escapes from the far South were almost all achieved by sea. By highlighting these little-known stories and describing the less-understood maritime side of antebellum escapes from bondage, this presentation will reshape our perception of how the Underground Railroad functioned, to provide a more comprehensive, accurate historical perspective.
click here for more information
View the recorded lecture (1 hour, 10 min)
Tuesday, March 21, 2023; 7:30 p.m. 
Sarah Porter, Filmmaker
Horseshoe Crabs: How 350 Million Year Old Sea Creatures Are Vital to Our Survival
NYC has a surprising amount of nature and wildlife, including thousands of horseshoe crabs that come to the shores in the spring to mate. With the worldwide race to develop and manufacture vaccines came renewed interest in these incredible sea creatures and their blue blood. These animals are over 350 million years old and have been critical to the development of COVID-19 vaccines. Although the bright blue blood plays a vital role in helping end the pandemic, their numbers are in decline. Numerous species, including humans, depend on horseshoe crabs and it's up to us to help ensure their survival. For this mini documentary, Sarah went out into the field and spoke with some "local heroes" in NYC who have been protecting them. Her team explored the nighttime waters of Brooklyn with elementary students to help monitor and tag them, data that then helps determine catch limits on how many can be taken by the biomedical and fishing industry.
click here for more information
View the recorded lecture (52 minutes)
Tuesday, April 4, 2023; 7:30 p.m. 
Tessa L. Getchis, Connecticut Sea Grant, University of Connecticut; Department of Extension, University of Connecticut
Zofia A. Baumann, Department of Marine Sciences, University of Connecticut
Ensuring the Future Viability of Connecticut's Natural Oyster Beds
Connecticut has nearly 10,000 acres of protected natural oyster habitat. Oysters and oyster farming are a highly valued part of Connecticut's maritime economy, environment, and culture. These beds have served as the primary source of seed for the state's multi-million-dollar oyster industry, have sustained commercial harvest for nearly two centuries, and are among the world's few self-sustaining oyster populations. Yet there are environmental and human-induced impacts to these critical habitats that reduce their function and ability to provide ecosystem services. In 2018, the state began a major planning effort to restore its oyster beds. The effort focused on characterizing oyster habitat across the state, compiling environmental and human use data for decision-making, and establishing management, research, outreach, and policy actions to help further facilitate oyster restoration. It is anticipated that these collective efforts involving a multitude of partner organizations will grow the state's capacity for oyster restoration, result in a net gain in ecosystem services provided by oyster habitats, and ensure the sustainability of the shellfish industry that depends upon them.
click here for more information
View the recorded lecture (1 hour, 11 minutes)
Tuesday, April 18, 2023; 7:30 p.m. 
sTo Len, Department of Sanitation Artist in Residence, NY
The Art of Water, Waste, and Wonder
Join us for a talk on interdisciplinary art, collaborating with water, and the act of embedding in a municipal agency as an artwork. Len will cover his evolution as an artist and his on-going Sanitation residency that has included ride-a-longs on collection trucks, activating lost archives, and trips to waste processing centers across NYC. sTo Len is a genre fluid artist from New York by way of Virginia and Vietnam.  Len works within this cultural dichotomy by incorporating issues of place, identity, history, and the environment. Growing up in the Washington DC area, sTo was influenced by the art and activism of the local punk scene, which he continues to embody through artwork that combines those ethics with experimental takes on traditional craft. sTo has exhibited his work internationally and co-founded the alternative art space Cinders Gallery in Brooklyn which held over a hundred exhibitions and events between 2004 – 2019.
click here for more information
Past lectures…
2022 Season:
Tuesday, February 7, 2023; 7:30 p.m.; Kris Ohleth, Director, Special Initiative on Offshore Wind; David Bidwell, Associate Professor, Marine Affairs, University of Rhode Island; Affiliate Scholar, Institute for Advanced Sustainability Studies–Potsdam; moderator: Angela Silva, Social Scientist- Fisheries & Offshore Wind, ECS Federal, Inc. In support of: NOAA Fisheries, NEFSC, Social Sciences Branch; Examining the potential opportunities and challenges for New England's emerging offshore wind industry; View the recorded lecture (1 hour, 28 minutes)
Tuesday, February 22, 2022; 7:30 p.m.; Kimia Shahi, Ph.D., Assistant Professor, Department of Art History, University of Southern California & currently serves as Kernan Brothers Environmental Fellow at the Harvard University Center for the Environment; "Uncertain Contours": Coasts at the Confluence of Science and Art in 19th-century America; View the recorded lecture (1 hour, 23 minutes)
Tuesday, March 8, 2022; 7:30 p.m.; Heidi Dierssen, Ph.D., Professor, Department of Marine Sciences, University of Connecticut; Rethinking the Blue Marble – the Colour of the Sea and Sky; View the recorded lecture. (1 hour, missing first few minutes)
Tuesday, March 22, 2022; 7:30 p.m.; Akeia de Barros Gomes, Ph.D., Senior Curator of Maritime Social Histories, Mystic Seaport Museum & Visiting Scholar, Center for the Study of Slavery and Justice, Brown University; Maritime Connections, Maritime Voices: African and Native American Histories of New England;View the recorded lecture (1 hour, 4 minutes)
Tuesday, April 5, 2022; 7:30 p.m.; Jason Oliver Chang, Ph.D., Associate Professor of History and Asian American Studies and Director of the Asian and Asian American Studies Institute at the University of Connecticut; Alexis Dudden, Ph.D., Professor of History at the University of Connecticut; CARGO – Connecticut's Coolie History in Graphic Media and Public School Curriculum; View the recorded lecture. (59 minutes)
Tuesday, April 19, 2022; 7:30 p.m. ; James M. Lindgren, Ph.D., Emeritus Professor, History Department, SUNY Plattsburgh; Blue Water Ports, Global Resources, and Commercial Empires: The Origins of the Nation's Major Maritime Museums
2021 Season:
Tuesday, February 9, 2021; 7:30 p.m.; Skip Finley, Author | Historian | Speaker; A Voyage of Discovery with Skip Finley; Play recording (missing first 15 minutes)
Tuesday, February 23, 2021; 7:30 p.m.; Andrew Kahrl, Ph.D., Professor of History and African American Studies, University of Virginia; The Struggle to Reclaim Connecticut's Coastal Commons; Play recording (1 hour, 23 minutes)
Tuesday, March 9, 2021; 7:30 p.m.; Chris Bowser, M.S., NYSDEC Hudson River Estuary Program and the Hudson River National Estuarine Research Reserve; The Hudson River Eel Project: Fish Conservation through Community Engagement; Play recording (1 hour, 20 minutes)
Tuesday, March 23, 2021; 7:30 p.m.; Beverly Goodman, Ph.D., Department Head, Department of Marine Geosciences, Charney School of Marine Sciences, University of Haifa; Ancient Tsunamis in the Mediterranean: How Past Disasters Save Lives Today; Play recording (1 hour, 16 minutes)
Tuesday, April 6, 2021; 7:30 p.m.; Prakash Kashwan, Ph.D., Associate Professor in the Department of Political Science and Co-Director of the Research Program on Economic and Social Rights, Human Rights Institute, University of Connecticut; Followed by a panel discussion with: Syma Ebbin, Ph.D., Research Coordinator, Connecticut Sea Grant College Program & Melva Treviño Peña, Ph.D., Department of Marine Affairs, University of Rhode Island; Confronting Issues of (In)Justice in Environmental and Resource Governance; Play recording (1 hour, 6 minutes)
Tuesday, April 20, 2021; 7:30 p.m.; Margaret Gibson; Connecticut State Poet Laureate, Prof. Emerita, UConn & David K. Leff; Poet, Lecturer, Former Deputy Commissioner of CT DEEP; Rousing the Ecological Imagination Through Poetry; Play recording (1 hour, 25 minutes)
2020 Coastal Perspectives Lecture Series
2019 Coastal Perspectives Lecture Series
2018 Coastal Perspectives Lecture Series
2017 Coastal Perspectives Lecture Series
2016 Coastal Perspectives Lecture Series
2015 Coastal Perspectives Lecture Series
2014 Coastal Perspectives Lecture Series