Harmony of Nature – fostering connection to the environment through music
Molly James, Ph.D. Candidate, Department of Marine Sciences, University of Connecticut
Harmony of Nature is an international collaboration, science communication, and experimental music project between pianist Hea Youn "Sophy" Chung and oceanographer Molly M. James. Born out of an unlikely friendship and language exchange during the COVID-19 pandemic, Chung and James conceptualized the project and received initial funding from Arts Council Korea to plan and test its feasibility. Harmony of Nature converts natural phenomena into sounds through coding technology and expresses them in classical music. After converting data into sound, the goal is to convey current climate change and natural flow by expressing the nuances (shape, texture, etc.) of the natural phenomenon in classical music. By expressing invisible science and natural phenomena through art, we want to more effectively convey scientific concepts, especially the effects of climate change, through music. Ultimately, we want people to connect emotionally with nature and better understand their local environment.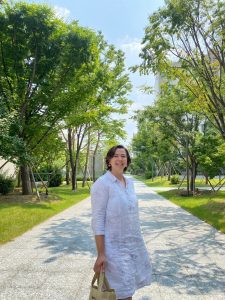 Molly James is a physical oceanographer enthusiastic about connecting scientific findings with community decisions in localities on the coastline. She employs both field observations and advanced computational techniques in her research projects to investigate the hydrodynamics of salt marshes in Connecticut. Molly is expected to graduate with her Doctorate from the Department of Marine Sciences at University of Connecticut in 2023. She received her Bachelor of Arts in physics with a minor in applied mathematics from Vassar College, during which she completed a National Science Foundation research experience for undergraduates at the Scripps Institution of Oceanography at University of California San Diego. In her free time, she plays bass trombone in the Southeastern Connecticut Community Orchestra, enjoys cooking elaborate meals, and learning languages.
Links and social media for Molly:
https://sites.google.com/uconn.edu/mollymjames
https://twitter.com/tidalmocean
UConn Today Article: https://today.uconn.edu/2022/11/making-music-from-data-points-grad-student-collaborates-to-sonify-science/
Hea Youn "Sophy" Chung, pianist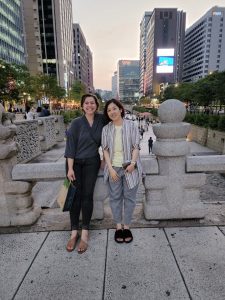 The essential aim of collaborative pianist Hea Youn "Sophy" Chung is to establish artistry, in which the musicians involved, "grow together towards a higher cause with the spirit of collaboration."
Ms. Chung currently resides in Seoul, South Korea. In December 2017, she founded Sophy & Company, a platform for new musical collaborative experiences. She has been presenting Sophy's Abend Series and other projects, which move away from soloist or accompanist ideas to one of true musical partnership that instills a sense of artistic collaboration. Through her concert series, Ms. Chung focuses on international exchanges by collaborating with musicians from various countries.
Ms. Chung received her Master of Music degree in Piano Performance under the tutelage of Matti Raekallio at The Juilliard School. Further studies led her to the Royal Northern College of Music in Manchester, England, where she completed her Post Graduate Diploma in Piano Performance with Distinction, studying with Graham Scott. Ms. Chung then returned to The Juilliard School, where she graduated with another Master's degree in Collaborative Piano under the instruction of Jonathan Feldman and Margo Garrett.
She has performed in many recitals, lessons, and public master classes, as well as played keyboard in orchestra concerts under such eminent conductors as Alan Gilbert, Jeffrey Milarsky, David Zinman, Larry Rachleff, and James Depriest. Previous performances include those in Carnegie Hall's Isaac Stern Auditorium/Perelman Stage and Weill Recital Hall, and Lincoln Center's Alice Tully Hall.
Links and social media for Sophy:
https://www.youtube.com/c/sopianist
https://www.youtube.com/c/sophyandcompany
https://www.instagram.com/with_sopianist/
Return to main page for Coastal Perspectives Lecture Series.