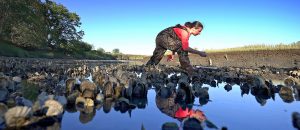 Ensuring the Future Viability of Connecticut's Natural Oyster Beds
Tessa L. Getchis, Connecticut Sea Grant, University of Connecticut; Department of Extension, University of Connecticut
Zofia A. Baumann, Department of Marine Sciences, University of Connecticut
Connecticut has nearly 10,000 acres of protected natural oyster habitat. Oysters and oyster farming are a highly valued part of Connecticut's maritime economy, environment, and culture. These beds have served as the primary source of seed for the state's multi-million-dollar oyster industry, have sustained commercial harvest for nearly two centuries, and are among the world's few self-sustaining oyster populations. Yet there are environmental and human-induced impacts to these critical habitats that reduce their function and ability to provide ecosystem services. 
In 2018, the state began a major planning effort to restore its oyster beds. The effort focused on characterizing oyster habitat across the state, compiling environmental and human use data for decision-making, and establishing management, research, outreach, and policy actions to help further facilitate oyster restoration. It is anticipated that these collective efforts involving a multitude of partner organizations will grow the state's capacity for oyster restoration, result in a net gain in ecosystem services provided by oyster habitats, and ensure the sustainability of the shellfish industry that depends upon them.
Web & Social media: 
Instagram @CTSeaGrant 

Instagram @uconnextension

Instagram @aquaculture_CT

Instagram @uconnmarinesciences

Facebook CTSeaGrant

Facebook UConnExtension

Facebook uconnmarinesciences
Biographies: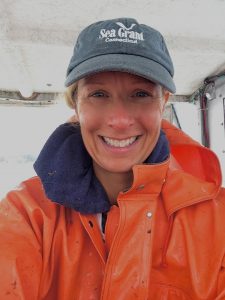 Tessa Getchis is an extension educator with the Connecticut Sea Grant program. She is a graduate of Roger Williams University, and has a master's degree in Fisheries, Animal and Veterinary Science from the University of Rhode Island. Tessa and her colleagues engage seafood producers, regulatory agencies, and coastal community leaders to create tools for sustainable shellfish aquaculture development and shellfish restoration. She currently serves as the facilitator of the state's aquaculture and shellfish restoration planning initiatives and has taught both undergraduate and extension training courses in aquaculture. She spent her childhood fishing and digging clams in Mystic, where she now lives with her husband and two daughters.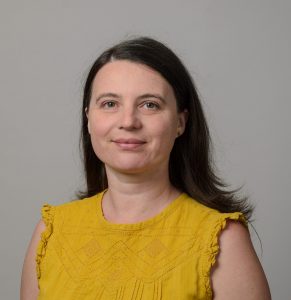 Dr. Zofia Baumann is a marine scientist with over fifteen years of experience researching coastal pollution and bioaccumulation of metals that pose risks to the ecosystem and human health. Since 2014, Zofia has held a research faculty appointment at the Department of Marine Sciences at the University of Connecticut. Through researching Long Island Sound, Zofia has been learning of the ongoing efforts to restore this estuarine ecosystem, and the new knowledge motivated her to participate in these efforts. She is passionate about Sound's shellfish habitat, which has been rebounding over the last several decades following the aftermath of historic degradation over a century ago. Zofia is currently developing a local shell recycling program in Groton, Connecticut, to help support the research and restoration of oyster habitat.
Return to main page for Coastal Perspectives Lecture Series.