AV Technology Services designs, installs and maintains the University of Connecticut's Seminar Rooms. These state-of-the-art environments harness today's most popular instructional technologies for use in an easy-to-operate control console. AV Technology Services strives to deliver technology of the highest quality, dependability and consistency.
Description of Seminar Room
The seminar room has a permanently located LCD projector, projecting an image large enough to be seen at the furthest seat from the ceiling mounted projection screen. There is an instructor's station with a permanently located touch panel controller. This touch panel controls all sources and the displays within the room. The most commonly used sources are a preview monitor, VCR, DVD player, permanently located computer, and Laptop. Additional sources such as Document Camera, Auxiliary Video, Tape Deck, and Slide projector are also available. The LCD projector will accommodate a maximum resolution of 1600×1200.
A plate mounted on the instructor's station includes a female video computer connection (VGA) and a female computer audio connection (female mini). This plate also has a female video connection (female BNC) with 2 audio connections (female RCA's) for stereo audio. Audio will be a 35 watt amplifier and 2 ceiling speakers. Audio level will be controlled at the touch screen.
Using the Seminar Room
To access the touch panel controls begin by turning the system on. To turn the system on touch the touch panel preview monitor.
This will turn the system on and allow you to make your conference type selection. If you are using video conferencing please click here for information. If your not using video conferencing the video source selection is at the left hand side the touch panel preview monitor. A small preview window of the selected source is available in the right side of the touch panel preview monitor. To maximize this screen touch the source preview area once. To minimize touch the maximized source preview once. Once a source is selected choose the option "Send this source to projector". Room controls, such as lighting combinations, are available from touch panel control monitor.
To facilitate uploading files to the permanently located computer a USB Hub is conveniently located directly behind the instructor's station. The USB Hub is lighted blue and is mounted approximately waist high. Direct access to the VCR, DVD player, and permanently located computer are normally prohibited.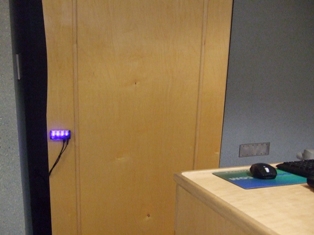 Contact Information
For more information or help using the seminar room please contact:
Todd Fake
860-405-9067
todd.fake@uconn.edu