AV Technology Services designs, installs and maintains the University of Connecticut's Seminar Rooms. These state-of-the-art environments harness today's most popular instructional technologies for use in an easy-to-operate control console. AV Technology Services strives to deliver technology of the highest quality, dependability and consistency.
Description of Seminar Room
The seminar room has a permanently located Laser projector, projecting an image large enough to be seen at the furthest seat from the ceiling mounted projection screen. There is a podium with a touch panel controller. This touch panel controls all sources and the displays within the room. A computer is integrated into the room. If you are a UConn affiliate you can log in with your netid credentials otherwise generic account credentials, presented when trying to log in, can be used. The  projector will accommodate a maximum resolution of 1600×1200. External input sources can use either VGA or HDMI connections and are provided at the podium. Audio is controlled by a 35 watt amplifier and 2 ceiling speakers. Audio levels are controlled from the touch screen.
Using the Seminar Room
To access the touch panel controls begin by turning the system on. To turn the system on touch the touch panel on the Podium. This will turn the system on and allow you to select the input source. If using the locale computer the display is presented on the monitor attached to the podium. More information can be found here.
The computer in the podium is located in the rack (see image below). A usb port is accessible from the front of the computer.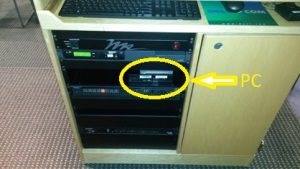 Contact Information
For more information or help using the seminar room please contact:
Todd Fake
860-405-9067
todd.fake@uconn.edu