Bachelor of Science – 2008
Bachelor of Arts – Visual & Linguistic Creative Studies – 2008
Masters of Education, University of Honolulu, 2010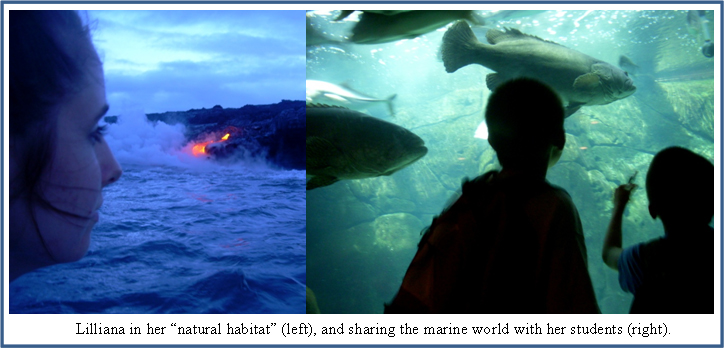 What do you do for a living?
Following graduation, I joined Teach for America's 2008 Hawai'i Corps. From 2008 through 2011, I taught fourth grade science, mathematics, language arts, social studies, visual art, and music at Palisades Elementary School in Pearl City, Hawaii. I founded and led after school interest groups in marine science, as well as a summer film institute. In addition to facilitating extraordinary academic gains, I integrated technology and creative expression into my teaching practice. My students were recognized as the first place winners in the 2011 'Olelo Youth Xchange video competition in the category of recycling, runners-up in two additional video categories, and wrote first and second place poems in the 12th Annual Martin Luther King Jr. Poetry Prize. In 2010, I was recognized as the Sue Lehmann Excellence in Teaching semi-finalist, and I am currently working with students in the Chicago area.
What's the most interesting thing you've done/learned in your marine sciences career?
My students are always the most interesting aspect of the day. Their natural curiosity, genuine passion for learning, and boundless creativity make our relentless pursuit of results a jubilant experience.
What aspect(s) of the UConn Marine Sciences Program uniquely prepared you for your success?
The interdisciplinary nature of UConn Avery Point's marine science major really allowed me to explore a broad number of topics while working toward a unified goal. Additionally, the capstone coursework requiring undergraduates to present technical scientific information to an audience of peers and professors really prepared me to speak in front of students and groups of new teachers.