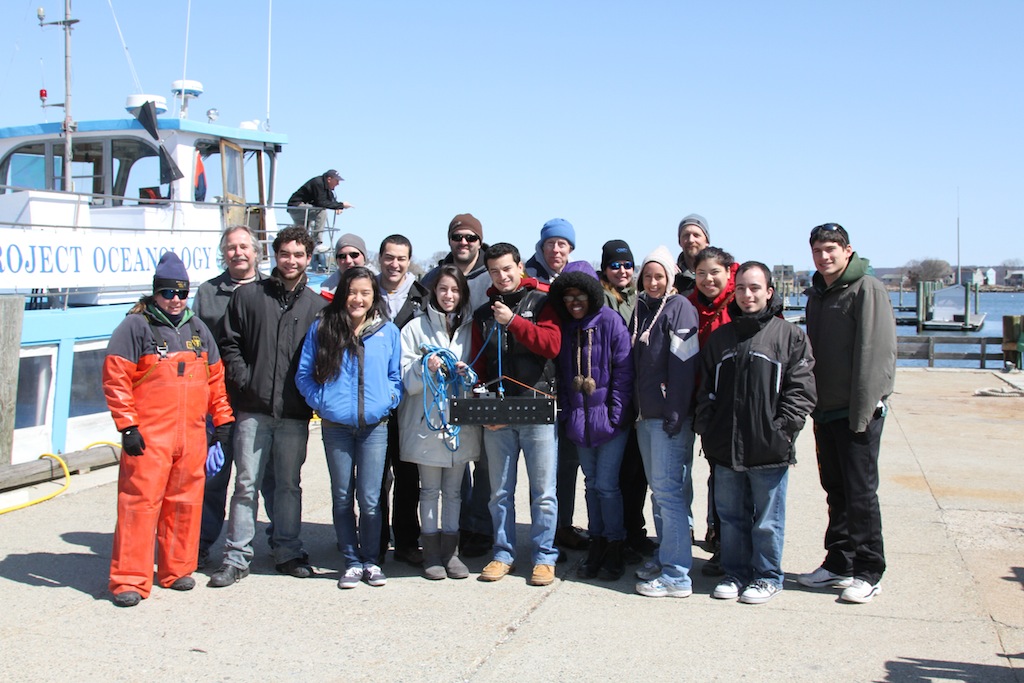 Not only did NURTEC's underwater technologies generate new oceanographic data and insights for scientists and resource managers, they also provided a window into the sea that engaged learners of all ages.  These technologies immerse students, teachers and the general public into our watery world, with all of its beauty, complexity, fragility and challenges.  For 30 years NURTEC leveraged these technologies to develop formal and informal educational programs and products that brought the ocean and Great Lakes into classrooms and living rooms.  Below are summaries of some of the educational projects supported by NURTEC.
MaTTS (2015-2018)
The Center collaborated with the University of Rhode Island on another NSF Innovative Technology Experiences for Students and Teachers (ITEST) project called MaTTS – Marine Technologies for Teachers and Students.  MaTTS utilized many of the simple ocean technologies modified or developed by COSEE-TEK to engage students and provide teachers unique hands-on resources and activities to bring the ocean into the classroom.  Click here for more information on MaTTS.
COSEE-TEK (2011-2015)
For five years NURTEC hosted a National Science Foundation (NSF) funded Center for Ocean Science Education Excellence (COSEE) with a focus on technology and engineering for knowledge (TEK).  COSEE-TEK's mission was to innovate and adapt approaches to improve the quality, availability, and impact of ocean science education by linking science, technology, and engineering to catalyze learning and communication of STEM topics for teachers, students, scientists, and the public. Click here for more information on COSEE-TEK. COSEE-TEK developed a number of low-cost, build it yourself technologies that allow teachers and students to work together to learn about ocean technologies and their role in ocean discovery.  Some examples of these products include:
COSEE TEK Simple Hydrophone Material List and Fabrication Instructions (V4.2 – 7-7-2016).pdf
Instructional Video on Building Your Own Hydrophone
COSEE TEK Underwater Camera Material List & Fabrication Instructions (V1d – 7-6-2016).pdf
COSEE TEK VIRTUE Settlement Array Material List and Fabrication Instructions (V1 – 7-12-2016).pdf
Aquanaut Program (1988-2007):
The Aquanaut Program (AP) was the brainchild of former National Undersea Research Center Director, Dick Cooper.  Cooper challenged current NURTEC Director, Ivar Babb on his first day on the job in March,1988 to work with him to co-develop the AP.  That spring a 14 students and 5 teachers were recruited from local Connecticut high schools and on June 11-12 each had the opportunity to experience a dive in the Delta submersible.  From this experiential beginning the AP evolved into a hands-on, minds-on, at-sea research program that utilized some of the most advanced underwater technologies of the day to support student and teacher research projects.  Researchers from academia and federal agencies were also recruited to serve as research mentors – providing guidance, instruction and role models for the students.  Many of the researchers used the AP to pilot novel research ideas and approaches, further immersing the teachers and students in the scientific process.
What started out as a program that relied on the human occupied submersibles, Delta, Johnson Sea Links and Clelia evolved to include and eventually focus on remotely operated vehicles (ROVs), acoustics and traditional oceanographic technologies.  For the first 18 years the AP focused on conducting its research/education operations in and around the Stellwagen Bank area of the Gulf of Maine.  When this area was designated the Stellwagen Bank National Marine Sanctuary in 1992, an immediate partnership was formed that provided relevance to the teacher/student research projects and exciting underwater imagery and outreach for the Sanctuary.  In the early 1990's the AP branched out to have students from the Great Lakes region travel to New England to experience ocean science and technology first hand.  This eventually led to Great Lakes AP that utilized one of the Center's small ROVs to engage students in exploration and research in the Lakes.  In 2006 the AP moved to Long Island Sound for two more years, linking to the Long Island Sound Integrated Coastal Observing System to provide an education and outreach facet to NOAA-sponsored observations in the Sound.
The AP provided unique experiences for hundreds of teachers and students.  Anecdotal data and personal communications support that the AP directly and strongly impacted many students' decisions to pursue careers in science and had a profound impact on the environmental awareness and stewardship of most participants.
The Classroom of the Sea (2002-2005):
 In 1998 two teachers from the American School for the Deaf (ASD) in West Hartford, CT contacted the Center to inquire about the possibility of ASD participating in the AP.  They were encouraged to apply and were accepted into the 1998 AP – and a bold and innovative decision was made to have the teachers and students participate in the acoustics research being conducted by the Center's AP Director, Peter Scheifele, a bioacoustician who had previously work with the U.S. Navy and the Mystic Aquarium.  The impact of the deaf students being able to "see" the sounds of the ocean through the waveforms and sonograms produced by Scheifele's acoustic equipment that they could not hear was truly amazing and enlightening.  The innovative Classroom of the Sea project that provided similar challenging ocean and Great Lakes research opportunities for deaf and hard of hearing students and their teachers.
Live Dives: For over a decade, NURTEC paved the way in numerous Live Dive events, transmitting wireless video from an ROV to a ship and then to shore using microwave technologies. These efforts provided an opportunity for numerous school systems, public venues, and individuals on the web to participate in underwater exploration, research and education
Informal Education Products:The Center's formal and informal education and outreach efforts also apply a range of network, communication and video technologies. Beginning with the Classroom of the Sea project in 2001, NURTEC developed and evolved the capacity to conduct live, interactive webcasts that sent high quality video and audio back to shore and onto the Web via low-cost telepresence technologies.  The Center also produced numerous educational posters, DVDs and webpages to promote its activities to the widest possible audience.