Overview
The UCURL is built upon the legacy and infrastructure of the University of Connecticut's Northeast Underwater Research, Technology and Education Center (NURTEC) that officially closed on December 31, 2017.  Over its 34 years at the university NURTEC acquired and developed unique underwater research tools that are now part of UCURL's arsenal.  These tools include several remotely operated vehicles, towed imaging systems and a side scan sonar.  The 1000-meter Kraken2 (K2) is the most capable ROV and has been used for extensively for underwater exploration, research and recovery of oceanographic equipment.  Recent investment in the K2 has been enabled by a grant from the National Science Foundation's Division of Ocean Sciences (OCE#1623997) to develop a more capable and rapidly deployable ROV system.  The K2 is ideally suited to work off from the RV Connecticut that has a dynamic positioning system, large deck capable of supporting the K2's control van and a low freeboard for safe, efficient launch and recovery.
A description of the capabilities of the K2 can be found below.
More information about the legacy of NURTEC can be found here.
System Characteristics
Kraken2 ROV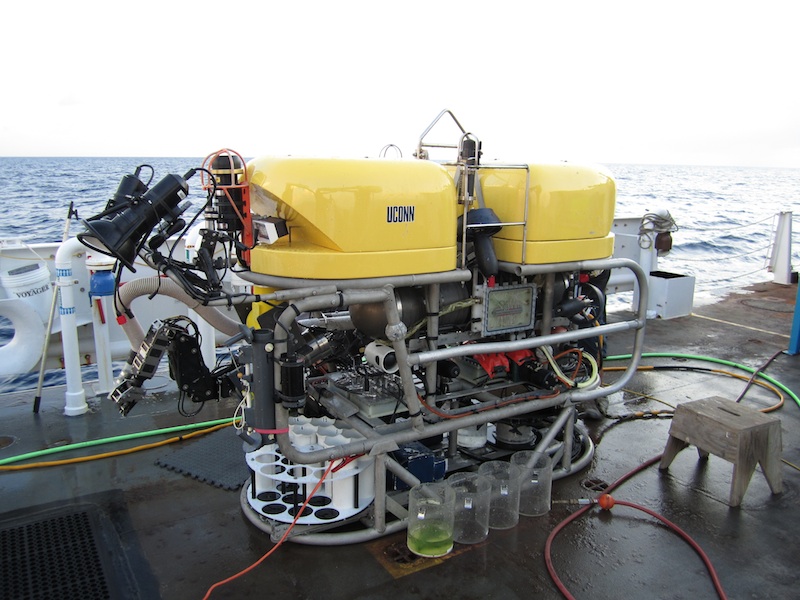 The Kraken2 (K2) vehicle is a purpose-built "science class" ROV (remotely operated vehicle), built upon a Deep Sea Systems MaxROV chassis that is capable of operating to depths of up to 1000 meters.  With it's detachable tool skid, the K2 vehicle has a combined dry weigh of approximately 2300lbs and measures 39"w x 84"l x 67"h (76"h to the top of the lifting bale).  The detachable light bar extends the overall system footprint to approximately 100" in length, excluding all configurable lighting and imaging systems.
The K2 platform uses a dual tether, down-weight system, comprised of a main 1220 associated with the K2 vehicle.  Along with providing accommodations for the ROV pilot, navigator, and two science personnel, this space also doubles as the primary workshop from which all routine vehicle maintenance is performed.
The K2 has conducted 167 dives to date, with hundreds of hours of bottom time and a maximum dive depth of 1014 meters.
Kraken2 Sampling Capabilities
In order to meet the diverse needs of a science class research platform, the K2 ROV was purposely developed with accommodations to support a wide assortment of scientific sampling, imaging, and data collection devices in various mounting arrangements.  In the current configuration, the K2 ROV provides the following core capabilities:
Imaging and Sonar Systems
Support for up to two simultaneous hi-definition (HD-SDI) and four standard definition (NTSC) video feeds and up to nine independent video and digital still cameras (HD and SD) configured on the vehicle.  Emphasis on application of multiple, simultaneous camera systems for qualitative and quantitative imaging and recording on multiple formats; e.g. Hi-definition video, down-looking video cameras for orthogonal imagery during transects, manipulator camera for imaging in hard to reach spaces, sampling cameras, and digital still imaging.
Independent contact closure to support analog 35mm or similarly triggered devices.
Support for up to two sets of independently switched parallel laser pairs for size scaling and image calibration (10 and 20cm typical).
Support for up to four individually switched lighting circuits (1 to 2 lights per circuit) offering a flexible combination of lighting systems and configurations.
Heavy duty center-positioned pan/tilt unit with potentiometer feedback to accommodate various imaging, lighting, and scaling systems.  Includes logged and user-selectable "home" pan & tilt settings for repeatable transects.
Integrated support for one Kongsberg Simrad Mesotech Ltd. Digital sector scanning sonar head with surface controlled interface (two heads available 675 kHz -1 @ 1500m and 1 @ 6000m rating).
Kongsberg Simrad Mesotech Ltd. 1007 Altimeter for accurate (+/- 0.5 meter) altitude measurements and data logging.
The following is a list of imaging and lighting systems currently available from NURTEC for direct integration on the K2 platform.
Video Cameras
One Insite Pacific Zeus+ Hi-Definition video camera, depth rated to 6000 meters (Ikegami HL40 camera w/ Fujinon lens)
One Kongsberg OE14-502 Hi-Definition video camera, depth rated to 6000 meters
Two Insite Pacific 3-chip, standard definition broadcast quality video cameras, two available (Aries 3000m & Atlas 4000m rated)
Four Insite Pacific Aurora standard definition, wide angle single chip video cameras
Still Cameras
One Kongsberg OE14-408 10 mega-pixel digital still camera (6000 meter rated) with single strobe
One Insite Pacific Scorpio Plus 3 mega-pixel digital still camera (6000 meter rated) with twin electronic strobes (3000 meter rated)
Photosea 35 mm film camera with strobe
Lights
Four 200 watt Nuytco HMI lights for daylight quality (5600o K) lighting
One Deep Sea Power & Light 2000 lumen LED Multi-SeaLite unit
Two Deep Sea Systems International OceanLED 5800 lux lights
Five Deep Sea Power & Light Quartz Halogen Multi-SeaLite units
Sampling
6-Function HYDRO-LEK hydraulic manipulator with various claw and wrist attachments (i.e. coral cutter, scoop tool, camera mount, etc.) supporting physical and biological sample collection, device deployment, component recovery, and other manipulative functions.
Secondary 6-function HYDRO-LEK hydraulic valve pack (+/- 2400PSI) to support science sampling applications and devices.
Configurable specialized sampling tools and containers to accommodate physical, chemical and biological sampling requirements; including 1) a 12"w X 36"l X 10"h insulated polypropylene "biobox" mounted to a hydraulic extensible sample tray, designed to keep specimens at ambient water temperatures; 2) an integrated suction sampling system incorporating a high power, variable speed, bi-directional suction pump and eight-bucket suction sample rotisserie allowing for independent sample collection; 3) 4"x4" mechanically (manipulator) closed stainless steel boxcores; 4) various diameter & length tube/punch cores and quivers; 5) opening/closing detritus samplers; 6) a newly developed sample rosette with 18 circular quivers with stoppers for collecting discrete samples.
Support for Additional/Scientist Sampling Equipment
Provision of independently switched electrical power supply ports in both DC (5, 12, 24V) and AC (120V) to support a range of user supplied subsea sampling tools and sensors.
Provision of independent serial data ports (RS-232, RS-485, & RS-422) to accommodate a range of data transmission and control requirements.
Provision of independent Ethernet ports available as an expansion capability.
Tracking & Navigation Systems
ORE Trackpoint II Ultrashort Baseline (USBL) tracking system for general relative vehicle tracking and positioning.
Winfrog Integrated Navigation System (INS) incorporating USBL tracking offsets, vessel GPS, vessel Gyro, vessel fathometer, K2 heading, depth, and altitude.  Along with providing for basic vehicle navigation the Winfrog INS also provides the ability to integrate multibeam and side scan sonar geo-tiffs to serve as basemaps and aid in pilot navigation, exploration and research efficiencies as well as the ability to continuously log ROV and ship navigation and sensor data, provided to scientists in text-readable format.