My interests are in marine benthic population and community ecology. Primary focus has been to use both laboratory and field experimentation, in combination with modelling, to address how abiotic and biotic processes influence the distribution and composition of populations and communities. Current activities are in the following areas:
The Role of Local Control of Recruitment on Persistence of Dominance in Subtidal Benthic Communities.
Patterns of recruitment, abundance and dominance within several subtidal communities in southern New England have been found to persist year after year over large areas of the bottom. This long-term persistence is not expected in such an open system with disturbances continually creating open patches for recruiting larvae whose identity and abundances change both temporally and spatially.
Present research suggests that the persistence results from strong local control of recruitment that overrides any variability in larval production and dispersal of species from outside a site. We have been testing this hypothesis by conducting manipulative field experiments which delineate abiotic and biotic controls of local recruitment and how these affect community establishment and development.
The Introduction of Exotic Species into Coastal New England Habitats.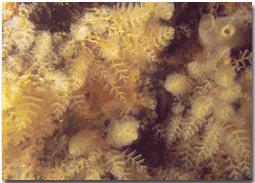 Over the past several decades, a number of non-native or exotic species (tunicates, crabs, bryozoans, shipworms) have been introduced into New England coastal habitats. Little is known about the ecology of these species and how (if) they are influencing indigenous fauna and flora. We have been experimentally examining the interactions of these alien species and native fauna. Two principle questions are being addressed: why are some species better invaders than others and why are some habitats more easily invaded than others? We are examining these questions using a combination of field and laboratory experimental studies.
Scale and Patch Dynamics of Shallow-Water Habitats.
Fundamental to ecology is the issue of how populations, communities and the processes that influence them vary with changes in spatial and temporal scale. Work is underway to investigate the role that scale-dependent processes play in affecting population and community processes in shallow-water soft-sediment habitats. Primary interest is directed to assessing scale-dependent population dynamics, predator-prey interactions and disturbance induced succession.
For more information on these topics please visit Team Benthos
EXAMS FOR MARINE BIOLOGY
First exam 1999.pdf
First exam 2001.pdf
First exam 2002.pdf
Second exam 2000.pdf
Second exam 2001.pdf
Final exam 2002.pdf
Oceanography Alumni
Safra Altman – M.Sc. 2003
Lee Crockett – M.Sc. 1989
Alan Desbonnet – M.Sc. 1989
Annette Frese – M.Sc. 1994
Charlotte Fuller – M.Sc. 1992
John Hamilton – Ph.D. 2005
Martin Holt – M.Sc. 1994
Dean Janiak – M.Sc. 2009
Kevin Kroeger – M.Sc. 1997
Diana Lancaster – M.Sc. 2014
Wei Jun Ling – M.Sc. 1990
Joshua Lord – Ph.D. 2014
Emily S. Maung – M.Sc. 2010
Jason McNamee – M.Sc. 2007
Jeffrey Mercer – M.Sc. 2007
James Reinhardt – Ph.D. 2011
Lynn Sedgwick-Springer – M.Sc. 1992
David Shull – M.Sc. 1992
Lauren Stefaniak – Ph.D. 2012
Tonna-Marie Surgeon – M.Sc. 1999
George Waldbusser – M.Sc. 2002
Anya Watson – M.Sc. 2010
Publications
Examples of Recent Publications:
Reinhardt, J.F., R.W. Osman and R.B. Whitlatch.  2012.  A phenological mid-domain analysis of non-native and native species recruitment species richness.  Journal of Ecosystem and Ecography. 2: 118. Doi: 10.4172/2157-7625.1000118.
Stefaniak, L. H. Zhang, A. Gittenberger, K. Smith, K. Holsinger, S. Lin and R.B. Whitlatch.  2012. Determining the native region of the putatively invasive ascidian Didemnum vexillum Kott, 2002.  J. Exp. Mar. Biol. Ecol. 422-423: 64-71.
Weslawski, J.M., P.V.R. Snelgrove, L.A. Levin, M.C.V. Austin, R.T. Kneib, T.M. Iliffe, J.R. Garey, S.J. Hawkins and R.B. Whitlatch.  2004.  Marine sedimentary biota as providers of ecosystem goods and services.  Pages 73-98.  In:  D.H. Wall (ed.),  Sustaining Biodiversity and Ecosystem Services in Soils and Sediments.  SCOPE Series, Vol. 64.  Island Press, Washington, DC.
Lord, J. and R.B. Whitlatch.  2012.  Inducible defenses in the eastern oyster Crassostrea virginica Gmelin in response to the presence of the predatory oyster drill Urosalpinx cinerea Say in Long Island Sound.  Mar. Biol. 159: 1177-1182
Janiak, D.S. and R.B. Whitlatch.  2012.  Epifaunal and algal assemblages associated with the native Chrondrus crispsus (Stackhouse) and the non-native Grateloupia turutura (Yamada) in eastern Long Island Sound.  J. Exp. Mar. Biol. Ecol. 413: 38-44.
Munguia, P., R. Osman, J. Hamilto, R. Whitlatch and R. Zajac.  2011.  Changes in habitat heterogenity afters marine sessile benthic communities.  Ecol. Appl. 21: 925-935
Westerman, E.L., R.B. Whitlatch, J. Dijkstra and L. Harris. 2009. Variation in brooding period maks similarities in response to changing temperatures.  Mar. Ecol. Progr. Ser. 393: 13-19
Whitlatch, R.B. and R.W. Osman. 2009.  Post-settlement predation on ascidian recruits:  predator responses to changing prey density.  Aqu. Invasions 4: 121-131.
Altman, S. and R.B. Whitlatch.  2007.  Space invaders:  the effect of small-scale disturbance on invasion success in marine communities.  Journal of Experimental Marine Biology and Ecology 342: 40-53.
Osman, R.W. and R.B. Whitlatch 2007.  Variation in the ability of Didemnum sp. to invade established communities.  Journal of Experimental Marine Biology and Ecology 342: 40-53.