Application period for the 2023 Bucklin Scholars Program is now open!
The Department of Marine Sciences at the University of Connecticut announces the 2023 competition for the Bucklin Scholars Program to enhance and support post-doctoral diversity in marine sciences and oceanography.
What is the Bucklin Scholars Program?
The Bucklin Scholars Program provides opportunities and support for postdoctoral scholars from marginalized and under-represented groups who seek to pursue academic careers in marine sciences. The program honors the work of Professor Ann Bucklin, who successfully increased gender equity in the UConn Department of Marine Sciences (DMS) during her tenure as department head.
Applicable areas of research include

Coastal processes • Benthic Ecology • Biogeochemical Modeling • Biological Oceanography • Chemical Oceanography • Fish ecology • Geobiology • Marine Biology • Marine Microbial Ecology • Marine Pollution • Ocean Biogeochemistry • Ocean Modeling • Paleoclimatology • Physical Oceanography • Offshore Environmental Research • Plankton Ecology • Polar Oceanography • Satellite Oceanography • Stable Isotope Biogeochemistry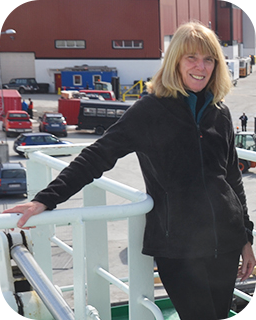 In continuation of this mission, the Bucklin Scholars Program aims to increase and support the diversity of lived experiences contributing to the practice and profession of marine sciences.  Scholars will work with DMS faculty members to design professional development activities that enhance their academic portfolio (e.g., engagement with state or federal agencies, organization of conference symposia, or grant proposal development). There is also an option to gain instructional skills through teaching (up to one course per year). The goal is to position Scholars for successful academic careers in marine sciences.
Each year the program supports one new Scholar, who is appointed at the rank of Assistant Research Professor. This rank permits the scholar to submit proposals from DMS for extramural funding as a principal investigator (PI) in collaboration with other DMS faculty members or independently.  Initial Bucklin Scholar appointments are for one year (starting 11-month salary range $60-70k, commensurate with experience) and typically begin in May of the program year.  Additional support for research and professional development activities is determined by the Faculty Sponsor(s).  Annual renewal is available pending funding and satisfactory performance. 
Who Should Apply?
Outstanding marine scientists who hold a phd in oceanography, marine science, or a related field by the anticipated start date and
identify with or belong to groups that have been marginalized and/or historically excluded from marine sciences, broadly defined,

and/or

demonstrate leadership in advancing diversity, equity, and inclusion in marine science.
The position is well suited to those wishing to pursue an academic career and are looking to gain experience developing grant proposals and/or teaching under the mentorship of DMS faculty. Each Scholar will be expected to contribute to research and scholarship through high-quality publications. If teaching is included in the applicant's professional development plan, the Scholar will be expected to share a commitment to effective instruction at the undergraduate and graduate levels.
How to Apply
Applicants must first identify and connect with eligible Faculty Sponsor(s) to discuss potential research synergies.
Any tenured or tenure-track DMS faculty member is eligible to serve as a Faculty Sponsor.  Scholars may have a single Faculty Sponsor or a Sponsor Team.  The Faculty Sponsor(s) will support the Scholar's research activities (e.g., equipment, supplies, conference travel) and provide a sponsorship letter as part of the application.  Applicants must work with their Faculty Sponsor(s) to design a professional development plan, especially whether or not the Scholar will teach, and this plan is to be included in the sponsorship letter.
To apply, submit the following materials via the application portal no later than January 24, 2023.  
A

cover letter

that includes a personal statement addressing how the Bucklin Scholars Program will help the applicant achieve professional goals, including how the objectives of the Bucklin Scholars Program will be met by the applicant. The cover letter should also contain a statement of the applicant's commitment to diversity, equity, and inclusion;

Curriculum vitae

that includes a publication list;

A one-page r

esearch proposal

;

A one-page

teaching statement*

(*if proposing to teach as part of the professional development plan);

A

sponsorship letter

from the tenured/tenure-track faculty member(s) in the UConn Department of Marine Sciences who will serve as the applicant's primary mentor(s). The letter must include (1) a mentoring plan that describes the professional development activities to be pursued by the applicant, including any proposed teaching activities, and (2) a research support plan that describes the resources and funds to be provided by the Faculty Sponsor(s) for

research activities and remaining salary requirements, depending on whether the applicant is expected to teach (75% CLAS support) or not (50% CLAS support);

 

Names and contact information of

three references
The posted advertisement and application portal can be found here: